Are you a skinny guy and want to gain muscle and weight? Then mass gainer might be a good catch for you.
What is a Mass Gainer or Weight Gainer?
Mass gainers are bodybuilding supplements which contain larger amounts of carbohydrates and fats to boost your calorie intake than normal protein supplements. When your daily calorie intake is more than your calorie burn, that is you start to gain weight. Well, that's the reason why we are here. We have sorted out the most reliable ones for you.
Which Mass Gainer is best for use?
In this article we have included the 10 Best Mass Gainers in India market, with a proven track record of helping people achieve their goals. 
Optimum Nutrition Serious Mass
BSN True-Mass
Universal Nutrition Real Gains
CytoSport Monster Mass
ON Pro Complex Gainer
MuscleTech Masstech
Ultimate Nutrition Muscle Juice
SSN Anabolic Muscle Builder
Dymatize Elite Mass Gainer
SAN Mass Effect Revolution
Best top 10 Mass Gainer Price in the india
We do not recommend you completely replace your food with weight gainer shake, and always consult a doctor prior using any supplements.
Optimum Nutrition (ON) Serious Mass Weight Gainer Powder – 6 lbs, 2.72 kg (Chocolate)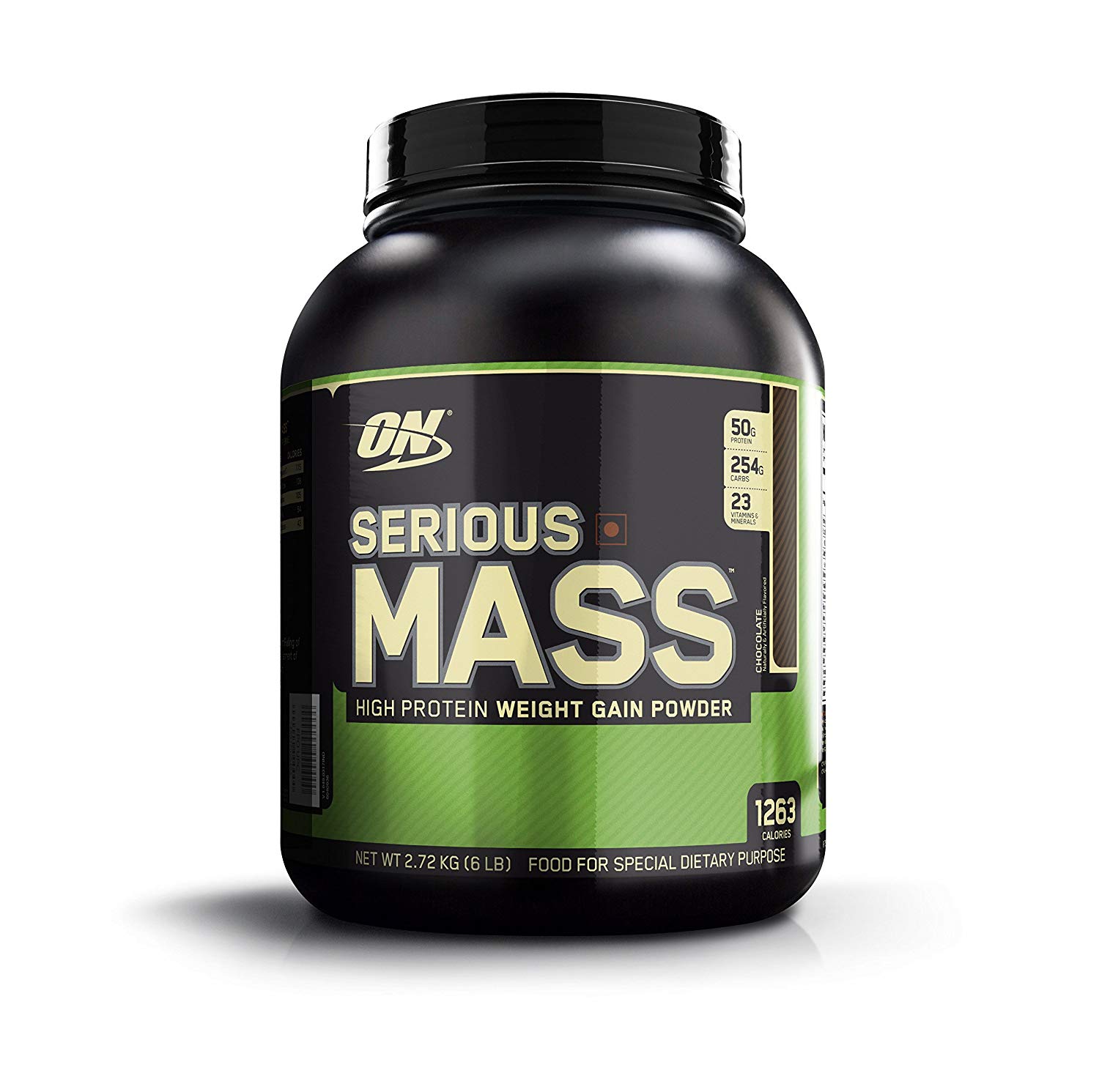 After you've done your squats, curls, and deadlifts, blend up this Optimum Nutrition Serious Mass Rich Chocolate. This 6-pound bag of protein powder contains over 250 grams of carbohydrates with no added sugar, 50 grams of protein, and 1,250 calories per serving. It's packed with creatine, glutamine, and glutamic acid and 25 vitamins and essential minerals. Adding calories is easy and tasty and this instantized powder is just what your muscles need for recovery support. Pack on the pounds and size up your goals and make this Optimum Nutrition Serious Mass High-Protein Weight Gain Chocolate Powder your go-to post-workout and between meals shake.
Benefits: Packing a very substantial 1260 calories* (varies flavour to flavour) into every serving – even more when mixed with cold milk – Serious Mass is the ultimate weight gain formula. With 50 grams of muscle building protein, when used in conjunction with a healthy, balanced diet and regular weight training, this powdered mix provides you with serious weight gaining support for developing your physique to the fullest.
BSN True-Mass Powder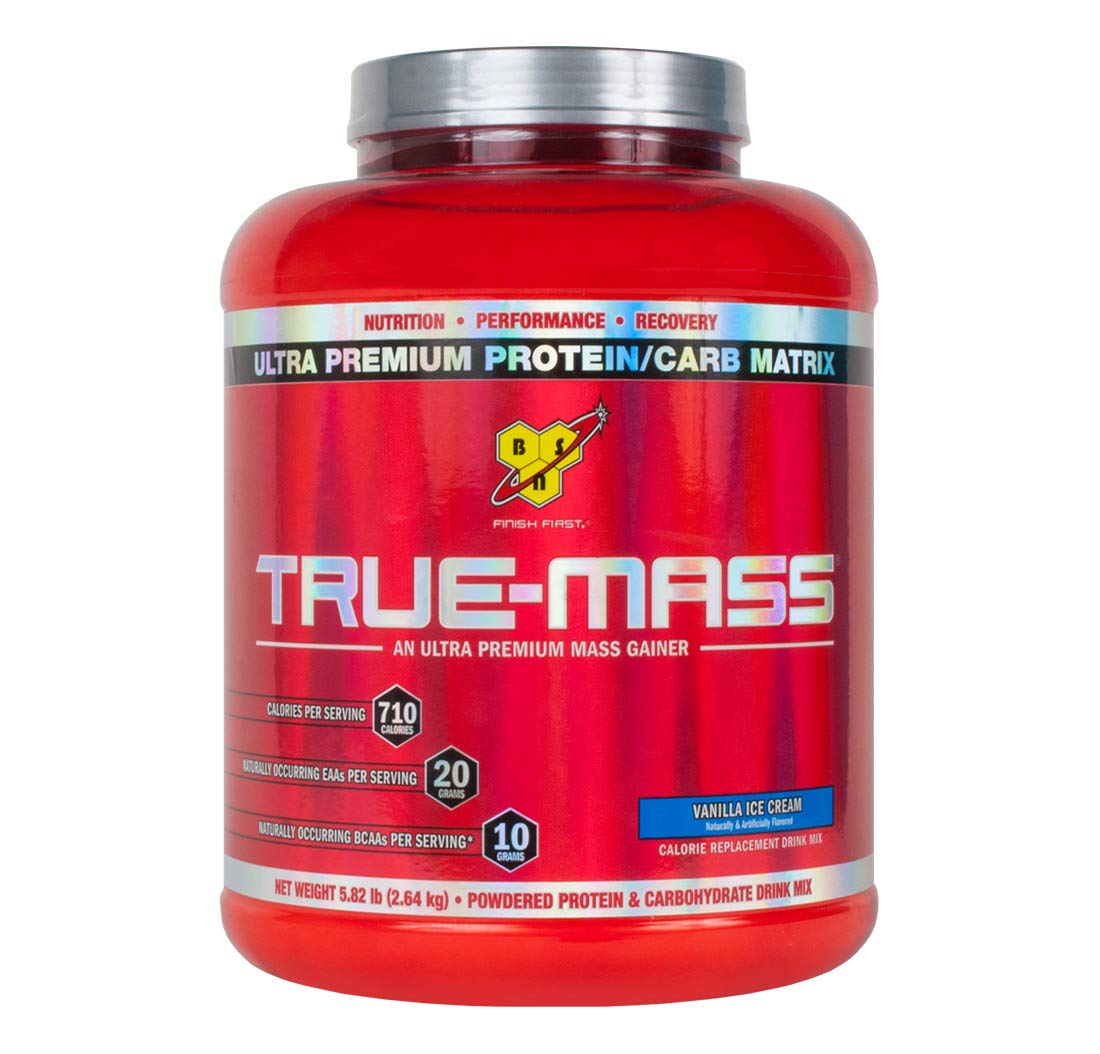 True-mass provides mind blowing mass to your body by suppling you with the ultimate mass building formula.It is nutrient- and calorie-dense, and can be used with water or any beverage of choice, though milk is strongly suggested to increase protein and calorie intake further. True-Mass is also considered a perfect intermediate supplement or meal replacement, as a person shifts from beginner to serious or competitive training. Aside from properly regulating and assisting muscle mass gain, it also helps in repair and recovery.
Product highlights: sustains release action; multi-functional am to pm protein and carbohydrate blend; six ultra-premium protein sources; bioactive protein utilization enzymes (aminogen and papain); rich in bcaas and other essential and non-essential amino acids; mcts, efas, glutamine peptides and glutamine a kg.
Universal Nutrition Real Gains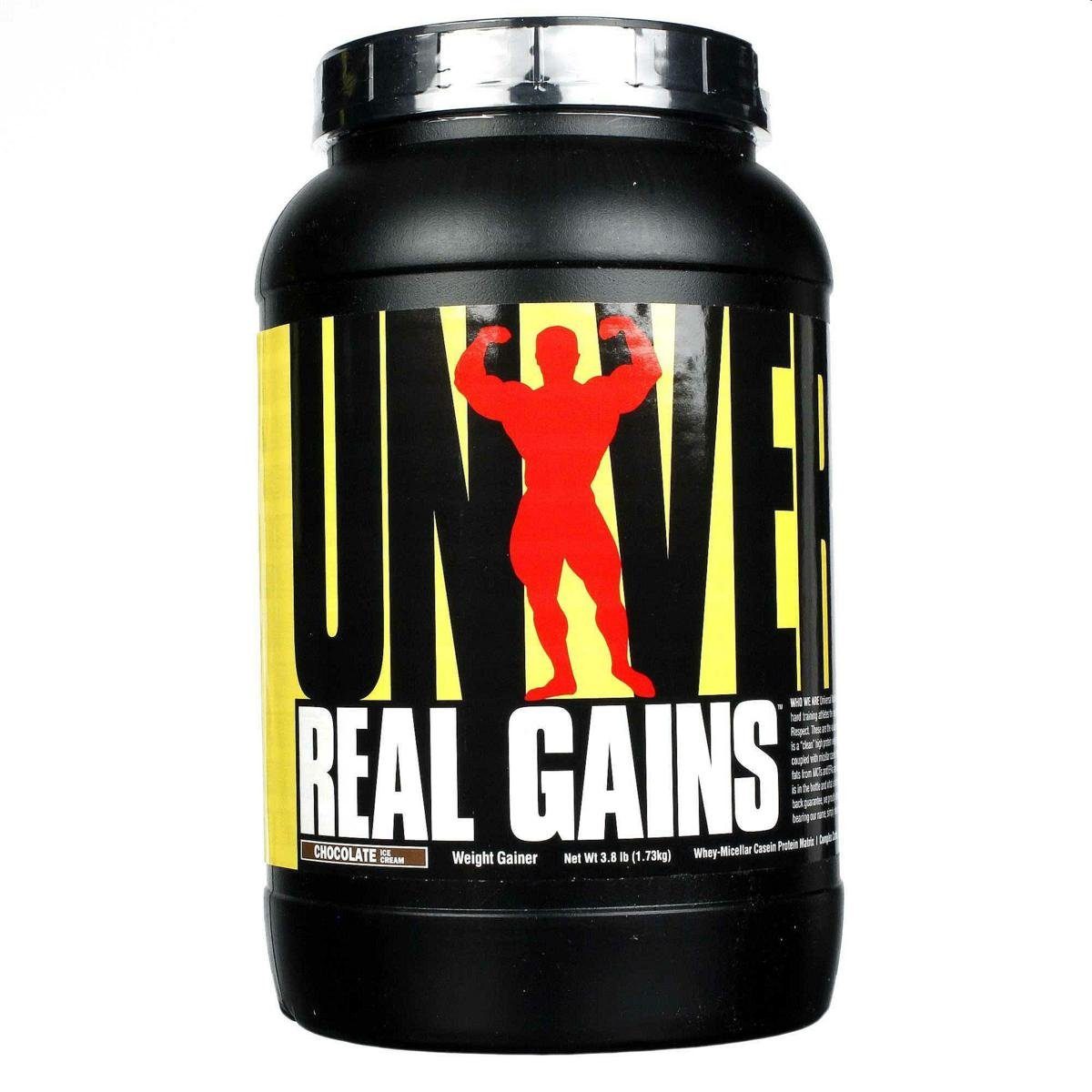 Real Gains is an extremely powerful mass-cultivating support formula that was created with you, a hardcore active and athletic individual, in mind. Real Gains has more of what you want and less of what you don't: More calories, more protein, more good fats, more taste, more fiber and far less sugar. You want to gain, muscle mass that is, and the right way to do that is with large amounts of protein, which you will find in every scoop of Real Gains, and by cutting fat intake. Rest assured we use only the finest whey protein and micellar casein available on the market. We don't skimp on things that are important and neither should you. Our real gains protein complex has a top-notch amino acid profile and instantly mixes into a liquid with no blender required.
Large amounts of complex carbs have also been included in every serving since they are an essential part of building and fueling muscle expansion. These carbs are a large source of energy that will support your intensely hardcore weight training routines. We have also provided you with inulin, a special dietary fiber that will aid in digesting all of the protein, carbs and fat you need to get big and stay big. MCT and flaxseed oils are included to aid in hormone production, cell membrane protection and growth, as well as overall daily nutritional needs. Real gains is meant to be used together with a well balanced diet and hardcore training routine.
MHP Up Your Mass 1200 Weight Gainer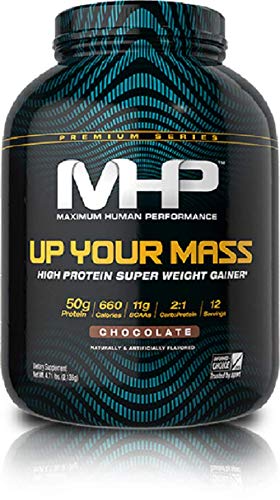 What is up your mass Up your mass is a unique informed choice certified, what you see is what you get formula, that has no hidden ingredients or proprietary blends. With 650 plus clean calories per serving, 50g of muscle building protein and 100g of muscle fueling carbohydrates, up your mass gives you everything you need to create the ideal muscle building environment to get you beyond bigger.
What does up your mass do Helps build lean mass (and not fat) fast speeds recovery supports greater muscle and strength gains supports digestive health boosts protein synthesis and lowers protein breakdown what makes up your mass better than other mass gainers While other mass gainers are loaded with sugar and cheap carb fillers that cause you to be fat and bloated, up your mass features a perfectly balanced 2: 1 carb to protein ratio, with less than 10g of sugar and low glycemic carbs from carb10, sweet potato, oat fiber and 10g of dietary fiber to help you pack on quality size.
MightyX Pro Mass Gainer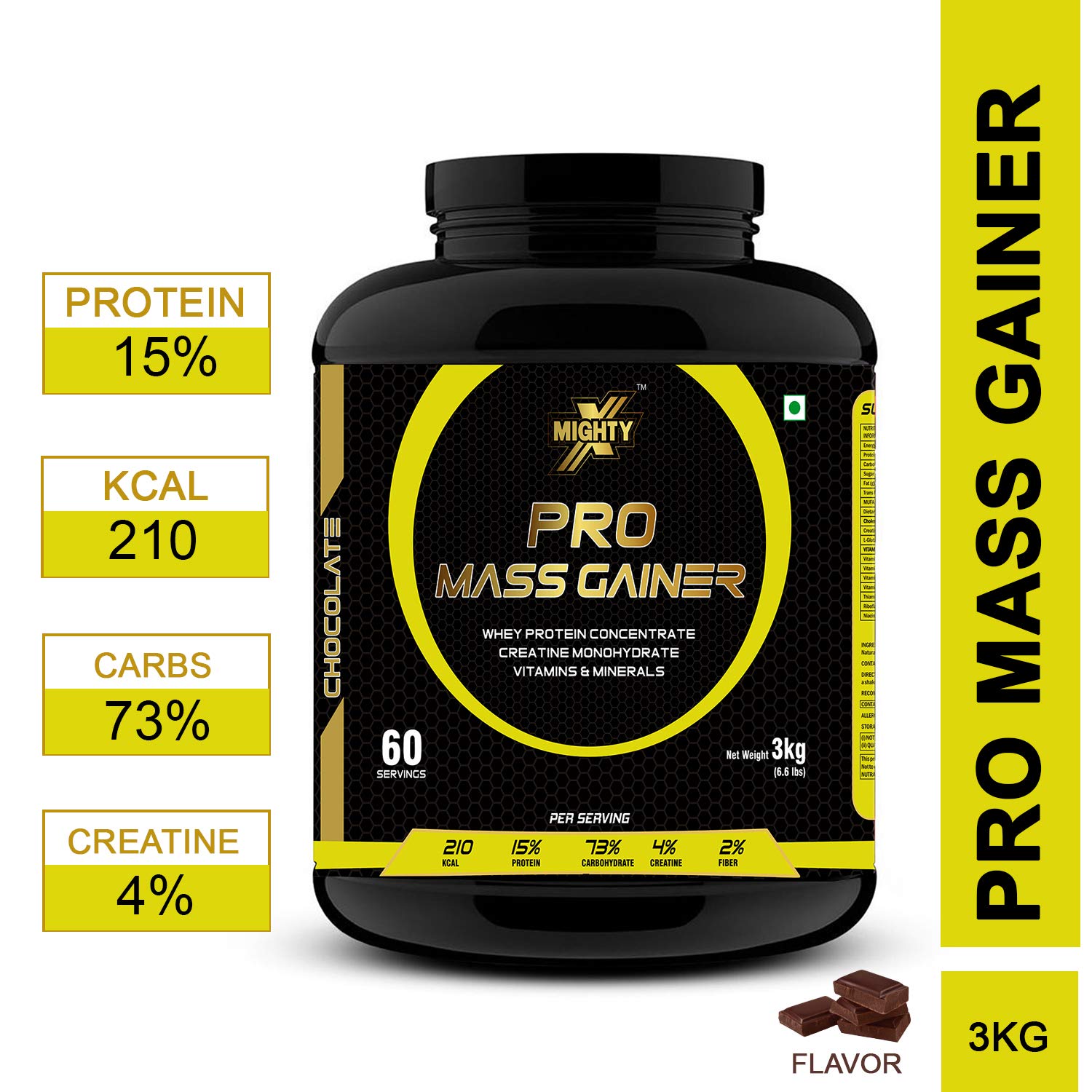 MightyX Pro Mass Gainer helps to fuel stormy lift; reinforced with Glutamine, Creatine, Minerals & Vitamins.
MightyX Pro enables to fire quick muscle gain in bodybuilders. The Perfect blend of Glutamine and its precursors, which supports lean mass gains and Muscles recovery. This instantized mass gainer makes a gigantic post- workout and between meals shake.
How to use a Mass Gainer?
Make sure that you also workout in the gym and then take the mass gainer post-workout. If you just drink these high-calorie mass gainer shakes and don't work out, you'll gain weight but a lot of it will just be fat.
For better result you should take mass gainer with milk in the morning and if you are taking it in the evening, then you should have it with water.
How to select the right mass gainer/weight gainer?
One should look for these qualities in a gainer
Carbohydrates- Choose a gainer that provides you complex carbs rather than simple, as complex carbs takes time to digest so and gives you sustenance.
Protein- It should have high quality protein with fast, medium and slow release proteins with essential amino acids.
Fast absorbing proteins like whey provide amino acids and nutrients immediately to muscle tissues after an intense workout session and trigger new muscle synthesis. Slow-acting proteins like micellar casein and calcium case in ate keep amino-acids trickling and help the body remain in a positive nitrogen balance.
Good Fat- Generally MCT (Medium chain triglycerides)are used in gainers as fat medium, as they possess property to get absorbed in lesser time.
Choose a mass gainer with less sugar content and more of complex carbohydrates.
Digestive Enzymes- Choose a mass gainer with digestive enzyme so that should prevent bloating and improves digestion.
You can choose mass gainers with added creatine also, creatine provides you energy and strength. It gets stored in the muscles in the form of creatine phosphate and gets coverted into ATP which inturn provides energy during strenous workout. This can be used for professional body builders.
Any mass gainer with added glutamine helps in quick recovery. Glutamine is an non essential amino acid, it helps in protein synthesis in muscles.
Do's and Don'ts
Drink at least 5–6 litres of water, keep your self hydrated, drink lots of fluids like coconut water, lime juice etc.
If you are planning to consume gainer workout is must, do not consume mass gain without workout.
Do not exceed the required dosage of gainer.
Gainer is not a substitute for meal, it's just a supplement to add on the calorie requirement. So do not substitute this with your meal.
Consume mass gainer post workout.