Blood Pressure Monitors Review: No need to stress—for those with high blood pressure, monitoring your stats at home can help you and your doctors keep track of what treatments are working and what might need to be adjusted to improve your health. We've done the research and created this guide to help you identify the best blood pressure monitor for you.
If you are looking to buy the best blood pressure monitor in India, then you are at the right place. In this blog post, I tell you about what is blood pressure monitor, types of blood pressure monitors, people who should buy blood pressure monitors, how to choose the best blood pressure monitor and which are the top best blood pressure monitors in India.
Blood pressure problems are really common around the world, especially in mid-age peoples. Either you have high blood pressure or low blood pressure you have to measure it regularly. So, here we have made list containing best Blood Pressure Monitors which most people tend to buy.
Top 10 Best Blood Pressure Monitors In India
Buying a blood pressure monitor or sphygmomanometer is essential and recommended for people who are elderly, patients of hypertension or diabetes. Having a BP monitor at home enables one to take multiple readings every day and take immediate necessary action should an anomaly be detected. To help you purchase the best blood pressure monitor for your home use, we have prepared a list of top 10 BP monitors that you can choose.
Most Selling Blood Pressure Monitor Price Details in India
1. Omron HEM-7120 Automatic Blood Pressure Monitor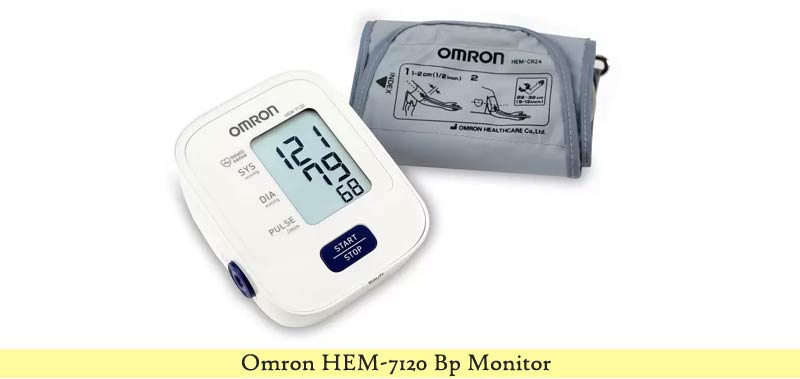 Omron HEM-7120 Automatic Blood Pressure Monitor is one of India's most widely used BP monitor at home.
It has a good display and can show systolic, diastolic, and pulse rate at one go.
It is especially preferred by the elderly because it has just one button to start and stop and one can easily take the reading.
Though it is one of the bestselling BP monitors, it can only store the last reading, and that is the only con of Omron HEM-7120 BP monitor.
This digital BP monitor comes with 5 Years Warranty and lifetime support provided by Omron.
Irregular pulse and heartbeat detection
Error when detects a movement in body, hence prevents from displaying wrong results
Pros:
Easy to use
Value for money
Easy to operate
5 Years Warranty
Cons:
Few people had problem with the warranty as they need to send the machine to service center which costed them money
Few also complained about cuff size
A few people also raised concerns about the accuracyof the reading
2. Dr. Morepen BP One BP09 Fully Automatic Blood Pressure Monitor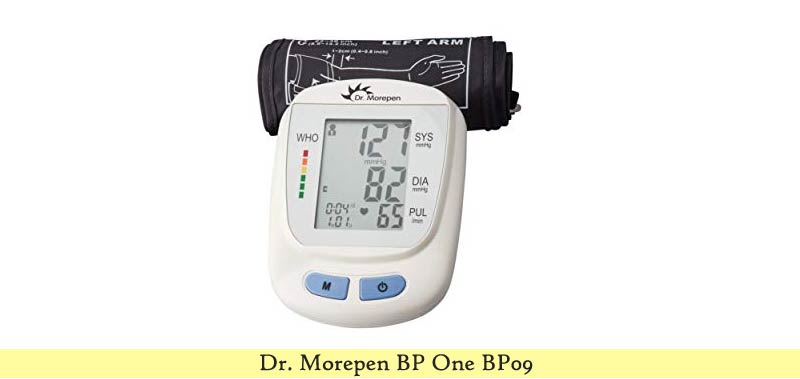 Dr Morepen BP One BP09 BP monitor comes with WHO blood pressure classification indication on the machine.
It displays systolic, diastolic, and pulse rate together for easy readability.
The blood pressure monitor has 4 users interface and it also indicates the instance of low battery.
It stores 120 records and averages last 3 readings.
Can also detect irregular heartbeats
MRP of Dr Morepen BP One BP09 Fully Automatic Blood Pressure Monitor is Rs. 2610
3. Dr. Trust Silverline Atrial Fibrillation Automatic Digital Bp Monitor Machine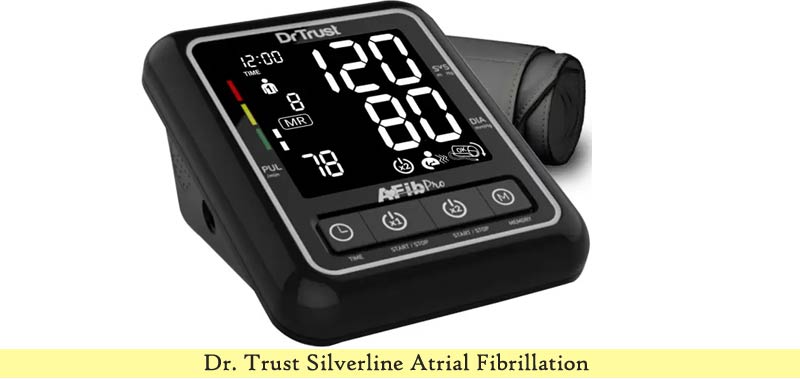 Dr. Trust Silverline is one of the most advanced BP monitors in India.
You can use the AF (Atrial Fibrillation) mode of Dr. Trust BP monitor which takes two measurements in succession and displays results after analysing both the measurements.
If AF mode is switched off, it works like a standard BP monitor.
The measured systolic, diastolic and pulse values are displayed on the screen.
It has a large size easy-to-read display with three colour-coded backlight indicators that allow you to measure BP according to WHO guidelines.
Priced at MRP of Rs. 4500, it can be bought for just Rs. 1599 with attractive discounts on Amazon.in.
4. Citizen CH-650 Blood Pressure Monitor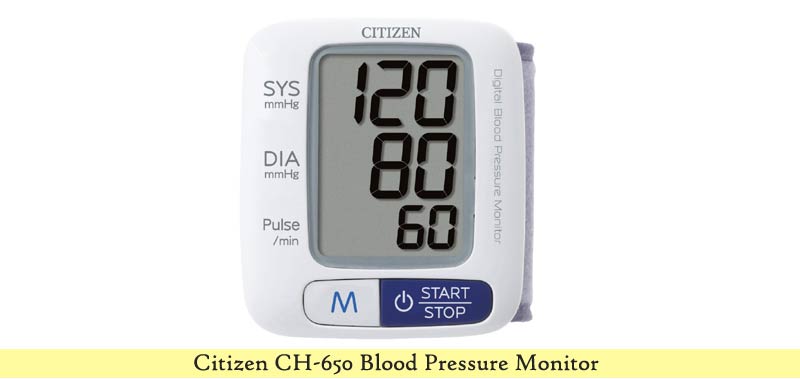 Another simple to use one button function BP monitor is the Citizen CH-650 BP Monitor.
It can detect Irregular heartbeat and also indicate body movement.
The measured systolic, diastolic and pulse values are displayed on monitor which is easy to read.
Loaded with 60 memory functions, it is easily India's best digital bp machine
For accuracy, it displays average of last 3 readings
Carry it anywhere with ease, thanks to the plastic case provided with the machine.
MRP of the product is Rs. 2999.
5. Omron HEM-7130-L Blood Pressure Monitor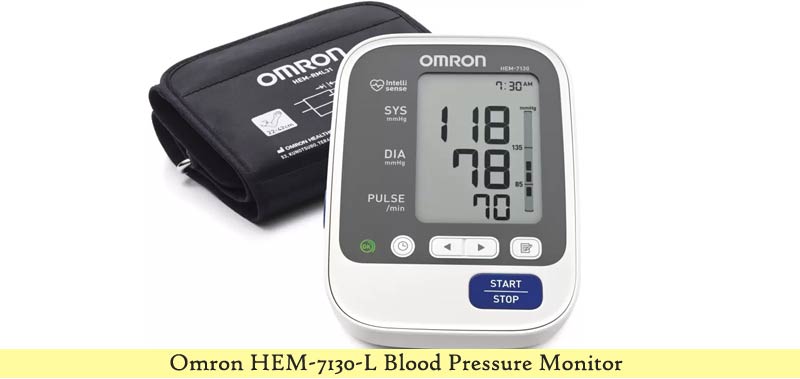 Another dependable product from the house of Omron
Omron HEM-7130-L comes with a large LCD display, a large cuff, and has a memory of 60 measurements with date and time
It averages the last 3 measurements to show accurate results
This blood pressure monitor can indicate hypertension and irregular body movement.
This BP device is featured with Intellisense technology, it delivers accurate measurement with comfort and ease of use.
It displays the irregular heartbeat while measuring the systolic and diastolic blood pressure.
Because of the features it offers, it is priced at Rs. 4010 at MRP.
6. HealthSense Classic BP100 Talking Blood Pressure Monitor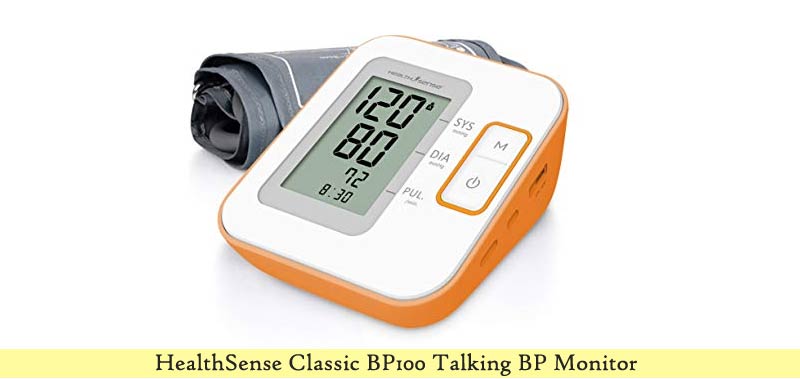 HealthSense Classic BP100 Talking Blood Pressure Monitor is another efficient and accurate digital BP monitor
It boasts of a highly useful function – talking function that delivers instructions, reads out blood pressure measurements with WHO compliance in English
It uses body movement indicator and BP Level Voice Command to make your experience much accurate and easier.
Also comes with latest and improved oscillometric technology
The product is priced at Rs. 2499 on MRP
7. Healthgenie BPM01W Digital Upper Arm BP Monitor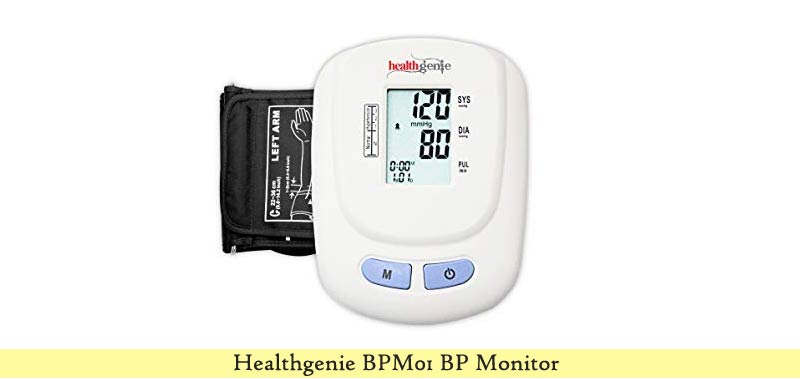 Compact and reliable upper arm digital BP monitor, Healthgenie BPM01W is suitable for people who take measurements daily
It comes with two buttons and is easy to use and maintain
It uses oscillometric method of blood pressure measurement.
This BP monitor has a good storage capacity, which can store up to 120 records.
It has cuff fit arms with the circumference of 22. 0-36.0 Cm
It is priced at Rs.1899 on MRP, though deals are available on online shopping
No products found.
8. Bestest BP Automatic Digital Blood Pressure Monitor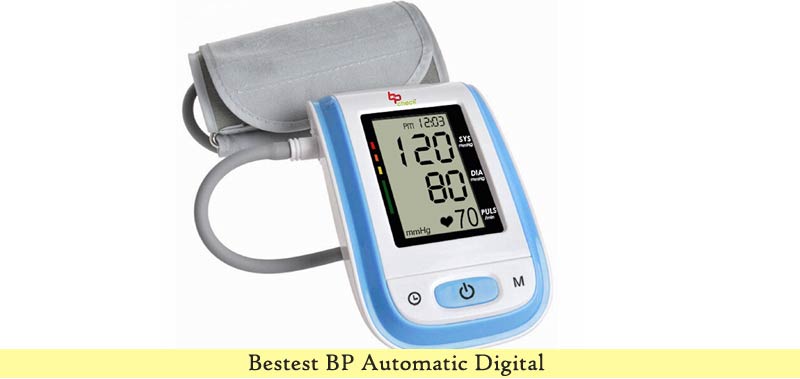 WHO Indicator is the coloured scale on the left edge of the display, depicting the level of Blood Tension given by the World Health Organization to evaluate the Blood Pressure.
It comes with a talking function that guides you take the measurement, during the process and then after
The large and easy to read LCD displays systolic, diastolic and pulse rate
It calculates averages of last three readings to give an accurate reading
Bestest BP Automatic Digital Blood Pressure Monitor is priced at Rs. 3000 on MRP- and buyers do get a free Trust thermometer on buying it at a discounted price from Amazon.
9. Dr. Morepen BP One BP3BG1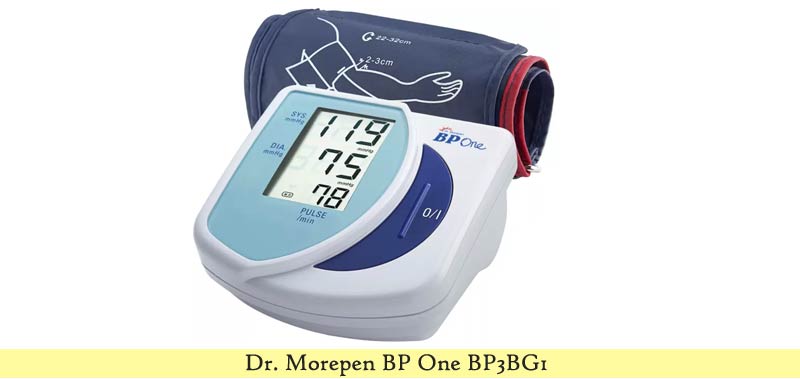 Dr. Morepen BP One BP3BG1 boasts of one touch operation with simple and easy to use features
It works on Fuzzy Logic and uses the Oscillometric Measuring Method
It has a one-touch function with recordable memory back-up
Dr. Morepen BP One BP3BG1 Blood Pressure Monitor has high accuracy and comes with a battery life indicator
MRP of the product is 3500 INR but available at a great price of 1498 INR online
10. Health Sense Classic BP120 Heart Mate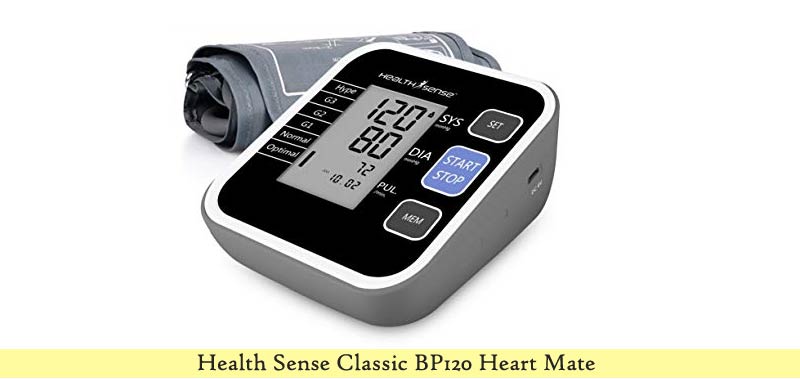 It uses Oscillometric measuring technology for improved pressure detection and accuracy
Comes with a bright LCD display that displays readings clearly
Boasts of two user memory capacity of 120 readings each
It comes seated on four skid proof silicon feet for added grip
Displays systolic, diastolic, pulse, date & time of measurement on LCD
It is priced at a very affordable Rs. 989 on Amazon though the MRP is Rs. 2299.
Below is the list of some of the best and accurate blood pressure monitors in India with their prices. You can easily take care of your blood pressure at home with convenience and need not visit the hospital again and again. Being a smart shopper, look for deals online and buy the best BP monitor suiting your requirements.
Types of Blood Pressure Monitors
There are different ways to measure blood pressure, which means there are several different types of blood pressure monitors on the market. You want to pick the type that is best suited to your needs and meets your doctor's recommendations.
Arm Monitors
This is the only method for measuring your blood pressure that's recommended by the American Heart Association because it's the most accurate.1 The cuff wraps around the upper part of your arm and tightens to measure your blood pressure.
Wrist Monitors
This monitor wraps around your wrist to measure your blood pressure. It's not considered as accurate as upper arm monitors, unless you have your arm and wrist positioned exactly at heart level. You'll have to follow the manual very closely because there's a lot of room for error.
Wrist monitors are easy to travel with and can be more comfortable than upper arm monitors.
Finger Monitors
The finger monitor is very similar to the wrist monitor. It's small, easy to travel with, and more comfortable than an upper arm monitor. Again, the main shortcoming is that it's not the most accurate.
What is a Sphygmomanometer?
A sphygmomanometer is a medical device also known as Blood pressure monitor and used to measure blood pressure. It is found on every doctor's table. The word Sphygmomanometer is actually a Greek word, where the word "Sphygmos" means pulse and "Manometer" means pressure meter.
Types of Sphygmomanometer
There are three types of blood pressure monitors:
Mercury Sphygmomanometer
It is a mercury based blood pressure measuring device. This device is one of the common methods of checking blood pressure but has been banned in few countries due to its toxicity.
This device has a manually inflatable cuff which is attached to a measuring unit. The transparent tube attached to the measuring unit contains mercury which is calibrated and marked. It is a very delicate device which is why one needs to be careful while using it.
Aneroid Sphygmomanometer
Aneroid means without fluid. These devices do not make use of mercury and are considered as one of the best alternatives to mercury-based devices. The procedure is quite similar to mercury-based devices which involves inflating and deflating the cuff, and most Aneroid devices come with a stethoscope attached to the cuff.
Aneroid Sphygmomanometer is having a dial gauge which is attached to cuff through tubes. Inside that, the devices make use of the mechanical parts to convert the pressure of the cuff to a gauge based reading.
There are various types of Aneroid Sphygmomanometers:
Pocket Aneroid Sphygmomanometer – It is a common popular device, due to its portable and compact design which is available at a very low cost.
Palm Aneroid Sphygmomanometer – It is a device popular for EMS environments where various cuff sizes are required for measurement. The design is compact which makes it easy to switch to different cuff sizes in emergency situations.
Clock-style Aneroid Sphygmomanometer – This type of device requires a large dial for viewing. They are usually found in doctor's offices, clinics, etc. The dial gauge can actually be mounted on the wall for better viewing.
Automatic Digital Sphygmomanometer
These devices make use of electronic pressure sensor which measures the blood pressure and the readings are displayed digitally. The device has inflatable cuffs like the other two types of sphygmomanometers. The cuff is attached to the electronic unit.
The only difference is the technique which is used to measure the blood pressure. The other types measure blood pressure based on the sounds that are produced by the blood which is flowing in the arteries but the digital device measures the oscillations of the arteries using the pressure sensors. The devices operate using batteries and solar cells.
They are available in two types:
Full-automatic blood pressure monitors – This device makes use of an electric pump to inflate the cuff. It is very easy to use and the results are produced automatically.
Semi-automatic blood pressure monitors – This device needs the user to inflate the cuff manually, once it is done, the device will start deflating the cuff automatically and then the reading will be produced just like it is in the automatic device.
How does Blood Pressure Monitors work?
Blood pressure monitor device like the Aneroid depends on the auscultation ( listening to sounds from the heart ) is gaining popularity. These devices produce a digital reading and work on the principle that the blood in our body flows through an artery between the systolic and diastolic pressure, thus causing vibrations in the arterial wall which is detected by the devices and transduced into electrical signals.
A cuff is inflated over the upper arm or the wrist to measure. The modern device uses a technology that decides how much the cuff needs to be inflated so as to reach a pressure of about 20 mm Hg above the normal systolic pressure for all the individuals.
As the cuff is inflated, there is no blood flow through the artery. When the cuff is deflated below the systolic pressure, the pressure reduced is exerted on the wall of the artery which allows the blood to flow through it and it detects the vibration in the arterial wall.
But if the cuff pressure falls below the user's diastolic pressure, then the blood flows smoothly through the artery and does not have any vibrations against the wall.
Vibrations occur only when the cuff pressure is sufficiently high, which would make the blood to push through the arterial wall in order to flow through the artery. The vibrations are transferred to a transducer in the monitor which converts the readings into the electrical signals.
Choosing the Right Blood Pressure Monitor
The first step to prevent a health condition is to determine it. You need not be a doctor to use these easy, compact blood pressure monitors within the comfort of your homes. However, if you go to the market, you will come across a wide range of blood pressure monitors and will get confused about what should you buy. Therefore, we are listing out the important criterion when purchasing a blood pressure monitor to be used at home.
Easy to use: Blood pressure monitors should be easy to use and not be too technical. Make sure you can easily follow the instructions to use it, and it does not sound complicated.
Easy to read: A digital BP machine should be easy to read with a full monitor and bright display of results. It should not be small that may require you to hold on to your spectacles first, and the monitor should be lit appropriately so that elders using it can read it without straining their eyes.
Cuff fitting: This is a significant thing to check for when purchasing a blood pressure monitor. A BP monitor comes with a cuff that one needs to wrap around the arm for accurate BP reading. Undersized or oversized cuffs may lead to inaccurate results.
Features: Most BP monitors come with some memory – you can choose if you wish to own one that stores more readings. That way you can always have a record of your BP readings in your device itself.
Buyers Guide To Blood Pressure Monitors
Accuracy
Accuracy is the foremost important factor in any blood pressure monitor. If your device is not accurate, then it is just waste of money and time to buy one and could be dangerous for your health.
Before you make sure that your device is accurate, you have to test it multiple times. You can also show the device to your doctor to test and verify it. He can give you advice on which blood pressure monitors to go for.
Size of Cuff
Most of the blood pressure monitors are accurate unless the device is too small for the patient. The size of the upper arm varies from person to person, therefore, it is important that you make sure the device is a perfect fit for you. Unless and until you do not have a bodybuilder built, most of the devices will fit your size.
Avoid using blood pressure monitors which has a cuff that is either too big or small for your arm. It can give you inaccurate results.
Easy to Use
It is important to find a device which is easy and simple to use because the person has to take the test himself which is why its simplicity is to be made sure of. If it requires a second person to help with the cuff or measurements, then you should avoid buying it. The more simple it is, the more often you will be using it.
Smartphone Connectivity
If you want to keep a track of your blood pressure readings, then some of the blood pressure monitors can connect to your smartphone and you can download the data directly from your phone. This is a convenient way to use as it can help you show the readings to your doctor.
Calibration
It is advised to take your blood pressure monitor to your doctor. He can help with comparing the results of the device with his manual blood pressure device to see if the readings are accurate or not.
Memory Storage
Basic blood pressure monitors can just store few readings taken recently but with the advanced devices and Bluetooth connected devices, you can store up to 200 or even unlimited readings. This can be helpful to you as you can monitor your fitness and health cycle.
Heart Rate and Irregular Heart Beats
Blood pressure and heart rate is related to each other which is why it is very useful if you go for blood pressure monitors that can monitor your heart rate and detect any irregular heartbeats which take place during the blood pressure test. It is an essential feature that you should consider while choosing a device.
Multiple User Modes
Blood pressure monitors are mostly used by multiple users if you have a sibling, parent or spouse living with you. It is necessary to have a device that has multiple user modes so that you can use it with your family as well, which can store the different readings and patterns. This will increase the device's value.
Arm or Wrist
Most of the blood pressure monitors take the test either on arm or at the wrist. Both are accurate places for testing. Although for taking the test on your wrists, it is important to follow the exact directions or else it can lead to inaccurate results. It is extremely sensitive to take the test on the wrist. But taking the test on the upper arm is much easier and accurate.
How we reviewed blood pressure monitors
We started our evaluation by looking over prices, user reviews, and doctor recommendations. Here are some things we considered when selecting blood pressure monitors for our list:
Simple interface: A user-friendly interface with large numbers and big buttons makes it easier to navigate the blood pressure monitor and understand the results.
Multiple users: A multiple-user feature tracks more than one person's blood pressure, so you can share the monitor with family members and skip the hassle of buying multiple devices.
Accurate readings: Accuracy is one of the most important things to look for in a blood pressure monitor. We chose only upper arm monitors for our list because they tend to have the best accuracy. Learn more about the different types of blood pressure monitors.
Memory storage: With high memory storage, you can log your blood pressure readings multiple times a day and over a long period to give your doctor a better picture of your health.
Advisor recommendations: We asked Sally Russell, MN, CMSRN, CNE, health expert, and educator, to review our selection and suggest one of her own.
Things to Look for When Choosing a Blood Pressure Monitor
If your blood pressure is too high or exceeded the limit, then you just need a BP monitor at home. As there're wide ranges of home blood pressure monitors available in the market, it's important to pick the right one by consider the factors given below.
1. Types of BP Monitors
There are two types of digital BP monitors depending of the cuffs – arm monitors and wrist monitors. While making a choice, always consider fit, features, performance and the price.
Arm Monitors – This type of BP monitor automatically inflate the cuff and display the readings. Most of these models have multiple user interface and large memory. But the general cuff size may not fit all users.
Wrist Monitors – These are fully automatic monitors that have a smell and compact size. They are lightweight and highly portable. But the pressure measurements taken by this type of monitor is highly sensitive to body position.
2. Automatic Vs Manual BP monitors
Based on the type of operation, blood pressure monitors are further classified into 2 types- Automatic and manual BP monitors. Usually, the automatic models pumps up the cuff automatically with a single push button to perform or generate better results than manual monitors. Whereas, manual monitors needs your support to inflate the cuff by pumping the bulb.
3. Ease of Use
It is best to choose a fully digital blood pressure monitors over aneroid models because they are easy to use. Digital models self-inflate without pumping and provide a clear reading.
4. Proper Fit
It is important to ensure that the cuff of the monitor you choose properly fits the circumference of your upper arm in order to ensure correct readings. Too-tight or too-loose cuff can lead to inaccurate BP readings.
5. Calibration
Majority of blood pressure monitors need to be re-calibrated once every two years to ensure that it gives accurate results. In order to re-calibrate the monitor, it has to be resent to the manufacturer. So, check the manufacturer's policy to ensure whether it offers re-calibration service or not and what's their fee for re-calibration.
6. Smart Features in BP Monitors
Most standard blood pressure monitors come with a number of useful features such as multiple user interface, inbuilt memory, irregular heartbeat detection, body movement detection, risk-category indicator, data averaging function, etc. Let's discuss each feature in detail now!
Blood pressure risk indicator is a system that monitors the continuous risks of blood pressure levels. The indicators will let you know when the blood pressure readings fall within the recommended levels. It is specially designed for those who don't want to consult doctors multiple times and monitor themselves.
You can simply note down the readings with keen observation and do not need any other separate features to calculate the readings.
Irregular Heartbeat Detector
Irregular heartbeat detector is another useful feature that detects the irregular motion of the heartbeat. During a particular period, the rate of heart beat can be too fast, slow or with irregular movements. Further, it helps to keep an eye on potential heart problems. But, some may think this is an unnecessary feature.
Batteries or Power Adapters
Earlier BP machines run using power adapters. With the enhancement in technology, now you can operate a blood pressure monitor using batteries- AA or AAA. Yet, both functionalities generates accurate results, choose the best one that is more comfortable for you to access at any time or location.
All arm-based blood pressure monitors come with medium size cuffs. Though it is suitable for majority of the people, it is exceptional for small or large arms people. So, you must consider different sized cuffs that perfectly match with your arm size.
Given below table explains the relation between size of the arm and cuff size. Check out your arm size to know which sized cuff suits you the most…
| | |
| --- | --- |
| Arm Size | Cuff Size |
| 18-22 cms | Small |
| 22-32 cms | Medium |
| >32 cms | Large |
The most important feature in blood pressure monitor system is the display unit. It allows the patients to know the accurate readings of blood pressure levels and maintain their diet accordingly. It even displays the readings when the BP level is too high or low.
Besides, it comes with a memory function to record the readings of the previous test samples. On an average it can record 60-90 samples and takes average of last 3 tests for the convenience of users.
Last one we're discussing in this section is the budget-friendly nature. The price of BP monitors may vary depending on the added features that a digital monitor has. Sometimes it varies from brand to brand depending on the performance, and accurate results. If you stick to high budget models that features plethora of smart options, you will definitely control the blood pressure level by monitoring at specific times.
Suppose, if you cannot afford high amounts then simply go with the basic models that display the BP level accurately. But you won't get smart features just like high-end models. Moreover, it's up to you- the decision maker to choose high end blood pressure monitors or limited budget models.
Frequently Asked Questions?
How a BP monitor works?
The working of BP monitor system is that when you pump pressure to the cuff, no blood pressure flows through the artery. And when pumped below the systolic pressure, reduces the pressure on arteries and thereby allows the blood to flow freely.
Which blood pressure monitor should I buy?
There're lots of brands and choices available in the market depending on BP monitor type, cuff size, battery usage, and smart features like BP risk indicator, irregular heartbeat monitor etc. It's also important to check for the price and warranty information on the product you're purchasing.

In the given list of best blood pressure monitors India 2018, Omron Blood Pressure Monitor is the right choice as it is suitable for different-sized arms and also comes at affordable prices. Moreover, it features intellisense technology, cuff wrapping guide lamp, blood pressure level indicator, and irregular heartbeat detection for smooth functioning of the device and generates accurate results too.
How long a blood pressure monitor lasts?
The life expectancy of BP monitor may vary from 1-5 years depending on the brands, model, usage and functionality. So, choose a monitoring system that lasts longer and can be taken anywhere you want. If you do not maintain properly, the lifespan and performance may decrease which results in inappropriate readings of the blood pressure or pulse rate.
Does blood pressure monitors measure heart rate?
Yes, some of the branded or advanced BP monitoring systems do measure heart rate along with the blood pressure levels on arms. It is defined as the 120mm Hg of systolic pressure to the 80mm Hg of diastolic pressure where the heart relaxes. Further, it is also calculated in BPM (beats per minute).
How a blood pressure is calculated?
The blood pressure is usually calculated in millimeters of mercury (mm Hg). It first calculates the systolic pressure and then followed by diastole. If blood pressure of a person is normal i.e. 120/80 mm Hg, 120 represent the systolic pressure and 80 is the diastolic pressure.
Given below is the table that differentiates the systolic and diastolic pressure along with the patient's condition. Check it out!
| | | |
| --- | --- | --- |
| Health Condition | Systolic Pressure | Diastolic Pressure |
| Normal | <120 | <80 |
| Pre-hypertension | 120-140 | 80-90 |
| High BP Stage-1 | 140-160 | 90-100 |
| High BP Stage-2 | >160 | >100 |
Few Words Before Wrapping Up…
Unhealthy food and lifestyle are the causes for increasing blood pressure levels. Now the time has changed, millions of people are self-monitoring their BP levels with the availability of BP Monitoring System to stay strong and healthy.
Of all the popular brands and choices, we've picked Omron HEM-7130-L Blood Pressure Monitor as the best because of the outstanding features like intellisense technology, cuff wrapping guide lamp, blood pressure level indicator, and irregular heartbeat detection.
Moreover, it has a very long battery life and comes with 5-years extended warranty at affordable prices. The Omron BP Monitor has very good reviews and ratings too and hence people are more likely to trust and purchase the product without any delay.
Note: The information given in this article is for educational purpose only, please do consult a doctor before purchasing and follow the prescription given to improve your health.
If you have any doubts regarding BP monitors or using any of the above-mentioned products, share your wonderful experiences with us in the comment section given below. We'll clarify them as soon as possible.