Office Gadgets Review: When the corporate life is out to get you, you can build a sanctuary around yourself that will keep you sane with some really cool gadgets for your workspace. And if you are looking out for the right time to get your workspace sorted, let us tell you there is nothing like a 'right time' to start. After a tedious and long 8-hour work day, we are sure that the first thing you want to do is to relax. But, did you know working on making your surroundings clutter free works as a great stress-buster? So let us look at some unique gadgets that would help you find out ways to create a nice, tidy and creative desk.
A work that requires you to sit in front of a computer from 9 to 5 is not as nice as it seems. While other jobs appear to be way harder than working in a nicely air-conditioned office, both can actually have an equal share of issues. Pains, niggles, and strains become too familiar especially if you are using lousy things just to get through out of the day. Without any doubt, we know what most of you feel. Which is why we offer you these top 5 office gadgets that can help you to boost your productivity without compromising your health.
Check Out These Cool Office Gadgets
Regardless of the type of technology you're looking for, you'll be overwhelmed by an array of cool office gadgets and applications.
Feel free to forget about outdated desk caddies and pencil sharpeners – office operations are on a good way to become easier and fully digitized!
VIVO Standing Desk
The aftermath of long-hour sitting is a throbbing pain in our back. One of the most common health issues of working in an office is back pain and there is nothing more annoying than that. So for that, we recommend you one of the best office gadgets Amazon offers right now and that is VIVO standing desk.
VIVO is an adjustable dual-tiered platform which sits over your current office desk that allows you to stand and sit when needed. You can switch between standing and sitting from time to time which as a result provides various health benefits for you. Some of these are enhanced posture and increased blood flow.
Just what we have mentioned a while ago, sitting for a long time results to back pain. However, Standing throughout long hours can help you keep you productive while you work at the same time with mind alert. In fact, its top platform can stand at least 4.2 inches from the actual surface of your desk and can extend from 10.5 inches to 19.7 inches.
Readydesk 2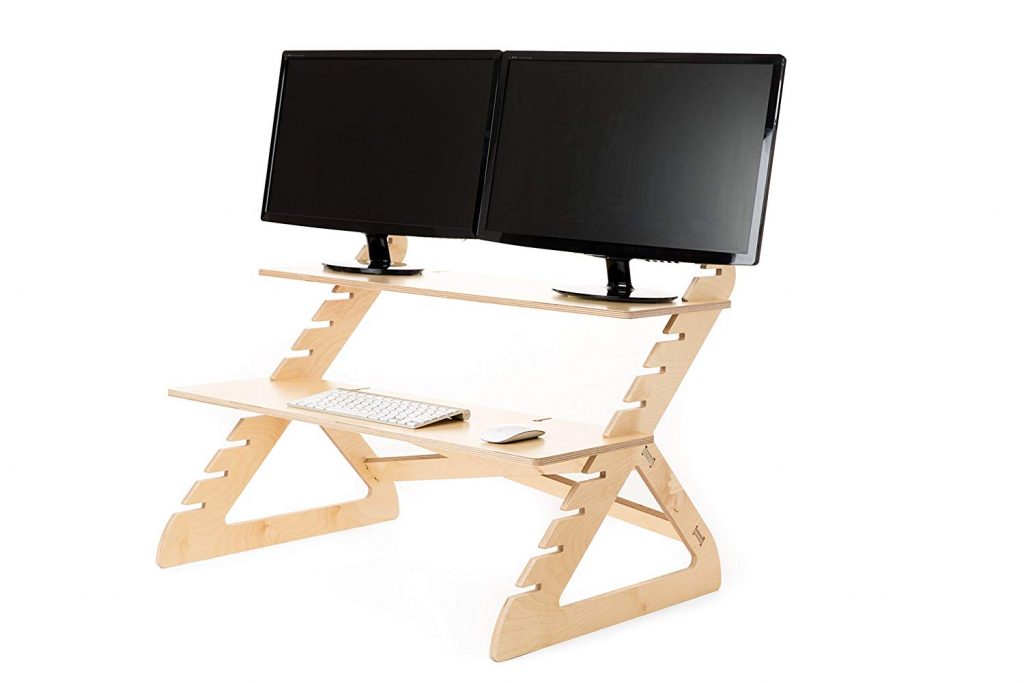 One of the ideal choice for individuals who want a better platform for themselves is Readydesk 2 convertible standing desk. Good multi-tiered converter office gadgets 2019 are hard to find. However, what we found right here are cool office gadgets for productivity such as Readydesk 2.
This convertible birch wood office table is not that ordinary. In fact, you can transform it into the most comfortable place in the earth. With its adjustable shelves, you can always achieve the accurate position you are most comfortable with. Furthermore, it allows you to achieve the best standing posture for you.
Readydesk 2 is recognized as the first ever desk to provide proper posture while standing up. Its shelves that are independently adjustable renders comfortable and easy working for you. You'll definitely get throughout of the day happily with this gadget.
ProBody Pilates Siting Ball
If you don't really like the idea of standing while you work, but you approve to the idea of being active during office hours, then this stylish fitness ball might interest you. More and more people are choosing active and healthy lifestyle over either overly relaxed or tensed day. For that reason, we included ProBody Pilates Siting Ball that allows you to sit but stay healthy at the same time.
With this you can now augment and take control of your fitness goal this 2019. It will improve the strength of your lower back and your abs which reduces the risk of back pain and more. But how does it work? While you comfortably sit in this fluffy looking ball during the day. Simultaneously, you will be needing to utilize the core strength of your body in order to keep balanced. As a result, it enhances body alignment, proprioception, and flexibility as well as reduces numerous risk of acquiring health conditions.
No products found.
Final Thought
The solution for your office pains has long been laid before you. And right now, we have broken them down in this top 5 list in order to help you easily decide on what's the best ones to take. Since life is a matter of choice. Tend to choose the best, for you to make yourself better and work more with excellence. May these top 5 office gadgets help you to do well and live well this 2019