Health is most important part of one's life because a healthy person can work and look out his family well. Water cannot be neglected in this sense, most of the health problems start from drinking impure water. That's why a water purifier should be installed in the home. Pure water keeps you and your family members away from diseases and medicines which cost lots of extra unexpected bills every year.
There are different companies offering various types of water purifier ranging from Rs. 1000 – 25000. But selecting best water purifier for home becomes difficult if we don't know about impurities present in water and what kind of impurities a water purifier removes.
Water purifier is no longer a luxury rather a necessity. Scarcity of pure drinking water is now issue also for those live in small towns and villages. Thus, Water purifier has become one essential gadget for every Indian home. Drinking pure water have lots of advantage, in fact, plays a great role in decreasing your family health bill. In this article, we review three efficient Water Purifiers for home Use. Here, read about top-rated water purifier models from popular brands such as Kent, Aquaguard, and Leaupure.
Let's compare List of Top 10 Best Water Purifiers in India for Home With Price
Types of Water Purifiers
Gravity Based Water Purifiers: These purifiers use gravity to clean water. They are good for low TDS water or if your budget is low as the price can range from Rs. 1000 – 5000 . They do not require electricity unlike RO and UV purifiers. Gravity purifiers are not as effective as electric ones. If your budget is low and water comes from municipality or treated sources, then gravity based purifier is a good choice.
They can also use Ultra Filtration(UF) membrane to filter water. UF membranes are similar to RO membranes but with bigger pores which cannot remove dissolved salts from water. The big advantage of UF water purifiers is that it will work without electricity and completely remove all microorganisms from water including the smallest of viruses.
UV Water Purifiers: These purifiers use Ultra Violet radiation technology to clean water by deactivating water-borne, disease-causing organisms. They are an ideal cross between the inexpensive activated carbon filters and the more expensive RO systems. However, they do not offer storage and are unable to remove heavy metals or chemicals like arsenic, nitrates and iron. Also, they can't get rid of the smell of contaminated water.
RO Water Purifiers: RO stands for Reverse Osmosis.This form of water purification involves forcing water through a semi-permeable membrane, which filters out a select number of water contaminants, depending on their size. They are known to remove arsenic, nitrates, sodium, copper and lead, some organic chemicals, and the municipal additive fluoride, but are not as effective as the ultraviolet filters against bacteria and viruses. These are essential in areas where contamination levels are high.
| RO Water Purifier | UV Water Purifier | UF Water Purifier |
| --- | --- | --- |
| Requires Electricity to operate | Reuires Electicity to operate | No Electricity required |
| Kills and Removes all the Bacteria and Viruses from the Water. | Kills all Bacteria and Viruses but their Dead Bodies remain in the Water. | Kills and Removes all the Bacteria and Viruses from the Water. |
| Requires Electricity to Boost the Tap Water Pressure | UV Water Purifiers can work with Normal Tap Water Pressure. | UF Water Purifiers can work with Normal Tap Water Pressure. |
| Removes the Dissolved Salts | Cannot remove Dissolved Salts | Cannot remove Dissolved Salts |
| RO Purifiers has Prefiltration system to work with the Dirty Water. | Water should be clear for UV to work. | Works with Dirty Turbid Water. |
There are water purifiers with combination of these technologies like RO + UV or RO + UF or RO + UV + UF Water Purifiers which are more effective than water purifiers using single technology.
These Are The Top 10 Best Water Purifiers In India 2022:
Top Deals on Best Selling Water Purifiers
During this festival and Holiday season, Amazon and Flipkart are offering Good discounts on the Best Selling water purifiers. Check out the top selling water purifiers below.
Pureit Ultima – Best Selling RO with 10 Litre Storage
Kent Grand Plus – Best RO for Medium family
Kent ACE Mineral – Best RO with 7-liter storage
Pureit Mineral Classic – Budget RO with Mineralizer
Livpure Glo – Budget RO with Mineralizer
Livpure LIV-PEP-PRO-PLUS – Budget RO
Things to check before buying water purifier
The below mentioned things should always be considered while buying a water purifier for home.
Electric or Non-Electric Water purifier
Electric purifiers are considered to give 100% clean and purified water. But electric purifiers need electricity all the time to filter water. Cost is also highbut they are sure to give purified water all the time. Generally, RO, UV, RO-UV-UF, and RO-UV are considered electric water purifiers. If you are living in a place where electricity is a problem then non-electric water purifiers are best.
Non-Electric water purifiers are simple and easy to use they can remove most of germs and impurities from water but are not effective as electric water purifiers. These purifiers are easy to maintain and also the cost is less compared to electric water purifiers. There are portable non-electric purifiers as well which helps during natural calamities and during a journey when you are out of your home.
TDS Level of Drinking Water
Many people are unaware about "what is TDS level in water and how it is calculated". Water contains many dissolved salts, impurities which should be removed before drinking. TDS levels measure the amount dissolved salts and heavy metals like lead, arsenic, mercury present in water.
Now the question comes, how do you check the TDS level in water? TDS meters are available in the market which helps to measure the TDS level of drinking water. You can choose the suitable water purifier for your home depending upon the TDS level in water. Below mentioned table represents how much TDS in drinking water is safe for consumption.
Level of TDS parts per million (ppm) Rating
Between 50 – 150 Excellent
150 – 250 Good
250 – 300 Fair
300 – 500 Poor
Above 1,200 Unacceptable
Storage
Now the question comes, how do you check that the TDS level in water? TDS meters are available. It's possible to pick the suitable water heater for your home depending upon the TDS level in water. Below mentioned table signifies much TDS in drinking water is safe for ingestion.
Maintenance and after-sales Service
It is very important to confirm the upkeep cost, prior to choosing the best water purifier to get in India for house. Regular maintenance is needed by the water heaters after 3-4 months so that it works. Consequently, it is imperative to check the quality of after sales services provided which you have chosen. Always go for a trusted Water Purifier manufacturer which offers exceptional customer care.
Installation and Warranty
Generally, all of the brands deliver setup and one year warranty. You need to check the warranty and setup details before purchasing the water purifier. The reason is there are many companies that may charge a little extra amount for the setup procedure.
Reviews and rating
Make sure you read the customer reviews and ratings about the RO UV water purifier before purchasing. This will give you a complete idea about the product because the customer has already used that product. You can read the water purifier reviews available on Flipkart and Amazon to get detailed information about the shortlisted product.
Analyzing the factors mentioned above will help you choose the best water purifier for domestic purpose. After a thorough research, we have prepared a list of the top domestic water purifiers available in the market. Below mentioned is the list of India's top 10 best water purifier for domestic purposes along with prices.
Best Water Purifier in India 2022
This list is a result of 10 months of efforts in getting suggestions from people and the products they choose so you can trust my list for top 10 best water purifiers in India.
Here is a list of purifiers from different sections like RO, Gravity based and RO-UV water purifiers. With above mentioned 7 quick points to select purifiers I hope, you will find purifier best for you. Check out my list of 10 best water purifiers.
1. HUL Pureit Ultima RO + UV Water Purifier Review
Pureit Ultima looks great in design. It is a nice product from Hindustan Unilever with RO + UV purification technique to give pure drinking water. RO removes hardness of water and makes it suitable for drinking and UV kills viruses to ensure water is purified. It also consists a TDS regulator which adds minerals and give tasty water. Ultima has been designed keeping easy to use functions so that anyone can easily operate this machine. Pureit Ultima purifies any source of water be it borewell, river or municipality water. If you are thinking to change your house in near future then this can be a good product because it is made to purify any kind of water supply.
PROS
10 L of water storage capacity
6 steps of water purification including pre-post carbon, RO and UV purification technologies.
TDS modulator which adds minerals and gives pure tasty water.
Digital Advance alert system which alerts 15 days earlier to change germ kill kit.
Purity indicator gives a measure of mineral in water essential for the body.
Removes 10 million viruses in 1 litre of water.
Removes hardness up to 2000 ppm.
Auto start and off system help to automatically start when water is used.
Water purification rate is up to 15 litres per hour which is quite good.
Good service and support from HUL company.
CONS
Requires electricity to purify water because it uses RO and UV purification method. Since storage capacity is 10 litres you don't need to worry during electricity failures.
Little high in maintenance for a change of filters and membranes but it ensures to provide safe, pure and tasty drinking water to your family.
Kent Ultra UV Water Purifier Review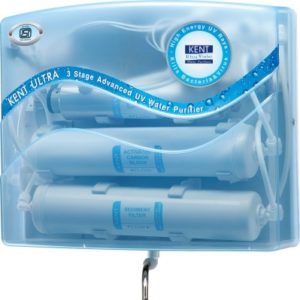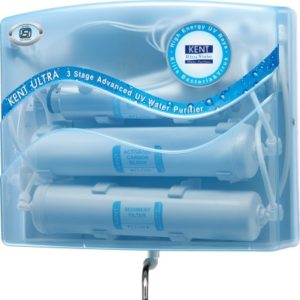 Kent Ultra is one of best in budget UV water purifier. It's 3 stages of purification technology kill all kind of germs present in water. It is WQA certified. A built-in UV alarm tells when UV rods needs replacement. Kent Ultra is highly purchased UV water purifier online.
PROS
The Large storage tank of 8 Litres provides water in the absence of electricity.
TDS controller helps to add extra minerals lost during RO. A user can adjust mineral level in output water as desired.
Automatic control with Auto on and off features. Filter alarm and UV alarm tells when filters stop working.
Spin- welded RO membrane to prevent tempering.
Higher filter rate of water purification 15L/hr which is a good sign of filter capacity.
Works with any kind of water sources such as bore-well, overhead tanks, municipal supply, tap water.
CONS
Poor After sales support. Many customers have reported poor after sales support from kent in some areas.
Requires electricity to purify water but its 8 litres of storage tanks helps during power cuts.
Aquaguard Reviva RO Water Purifier Review
Aquaguard Reviva blocks all kind of dissolved minerals present in water. It removes harmful bacteria and pesticides from water. Recommended for salty, Khara and blackish water. If you live are looking for simple RO purifier this can be your choice. Large 8 Litres of storage is sufficient to provide water during electric faults. Built-in voltage stabilizer helps to maintain voltage fluctuations. Booster pump helps to increase water pressure in RO membranes so you don't require extra pressure pump. Unique E-boiling+ gives purified water which is boiled for 20 minutes.
Pros
The combination of RO + UV + TDS gives 100% pure and tasty drinking water.
Good water storage tank of 7 litres sufficient for family of 4-5 members.
Unique RO membrane removes extra TDS from the water. Contaminants like Heavy metals, Pesticides, Lead, chemicals and all other dissolved salts.
Silver Surety Technology stops growth of bacteria and viruses in water.
It has inbuilt voltage stabilizer. Comes with booster pump to increase pressure of water in RO membranes.
Add extra minerals to water and gives tasty drinking water.
Recommended for salty, blackish, Khara water.
Cons
Electricity is Required to clean water all the time but doesn't worry it's 7 litres of storage tank is sufficient to store purified water.
Little higher in price compared to other purifiers around Rs. 15,000 at online stores.
Maintenance cost is little higher around 4000-5000 in compared to other purifiers but it's good to pay on maintenance rather than looking up for a doctor.
HUL Pureit Classic Gravity Based Water purifier Review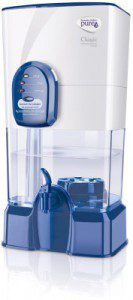 Pureit classic is one of the oldest and trusted gravity based water purifier. Performance is good and it cleans muddy water. Pureit can remove 1 crore viruses in 1 litre of water. It has nonbreakable food grade plastic, sleek design makes it easy to fit in your home. It has a total storage of 14 Litre out of which 5 Litre of purified water is stored in the container. Germ kill kit indicator tells when replacement is required and it doesn't filter water when germ kill kit expires. So you don't get impure water anytime. Easy to operate and light in weight makes it a nice water purifier.
Kent Ace Mineral RO + UV + UF Water Purifier Review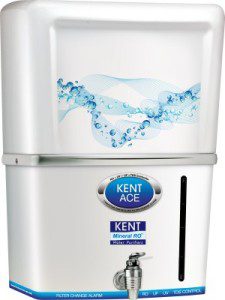 Kent ace mineral uses RO-UV-UF purification technology to clean water from all kind of germs and dissolved impurities. It can clean any kind of water, bore-wells, overhead storage tanks, water tankers or tap water. TDS controller maintains essential minerals in the water. Taste Enhancer adds extra minerals and gives pure tasty drinking water. If you are confused with water supply at your home or looking to shift in near future, then Kent Ace can be a good choice. Kent ace is easy to use and also don't require too much maintenance.
Tata Swach Viva Silver UV + UF 6 L Water Purifier Review
If you or your family members are regularly falling sick you should consider installing a UV water purifier at your home because water contains many harmful bacteria and viruses which make human body weak causing water borne diseases like typhoid, cholera, dysentery etc. This purifier from tata looks good in design and also has a tough body it will make your kitchen shine.
Tata swach viva is fitted with UV and UF filters which have 4 purification stages to clean water from viruses and several other harmful dissolved salts in water. It has a 6 liters zero contaminant tank and the only purifier with a storage tank in the category. The silver action inside with silver impregnation imparts longer life to the cartridge. The advanced indicators provide you with intelligent information and inform the status and the health of the system.
Kent Gold Optima 10-Litre Gravity Based Water Purifier Review
KENT Gold Optima is tried and certified for its execution and quality by prestigious research centers of the world, for example, NSF and WQA in the USA. NSF and WQA Gold Seal are a standout amongst the most perceived certifications in the drinking water treatment industry and give certification that the items have been thoroughly tried and agree to every one of the necessities of the testing gauges. Truth be told, KENT is the first and the main organization in India to have gotten certification from NSF. KENT Gold Optima is additionally CE certified. KENT Gold Optima has 5 liters of purified water stockpiling capacity. The capacity tank guarantees a nonstop supply of purified water even without power or running faucet water. The crude water tank has a capacity of 5 liters.
Pros:
Purification by hollow fiber ultra filtration membrane
Use of nano-silver carbon for better disinfection of water
Long life membrane expected to last upto 4000 Litre
Transparent tank made of unbreakable ABS food-grade plastic
Cons:
Filter's cylinder gets blocked and you have to clean it by injection water forcefully against its direction of flow.
Eureka Forbes Aquasure Aquaflo DX UV Water Purifier Review
Are you are falling sick frequently? Not certain why? We know the reason. It's you're drinking water. So it's an opportunity you discarded that old water purifier of yours and change to thisEureka Forbes Aquasure Aqua-Flo water purifier. Introduce this utilitarian purifier and say bye to unhygienic water and with that to a few diseases. This water purifier accompanies 3 purification stages with UV innovation which permits the water to go through a high-review glass. The UV beams execute the germs, microbes, and infections and furnish you with spotless and safe drinking water. This electrical water purifier accompanies a residue sift which filters through salt, sand and furthermore the terrible scent from the water.
Pros:
In-built voltage stabilizer
Hi flo delivers 2 Litre in a minute
Capacity: 3300 Litre
Dual cartridge
Buzzer indication
Error indication
Cons:
This cannot suck water and liquids.
Eureka Forbes Aquasure Amrit 20-Litre Water Purifier Review
The Aquasure Amrit does not have to boil, running water nor power as a major aspect of the purification procedure. Basically, fill the water purifier with general faucet water and the Aquasure Amrit will do the rest. The water purifier screens purification prepare and step by step turn off after it fills to the top. The capacity is 20 liters.
The Eureka Forbes Aquasure Amrit is a tried and true water purifier with Kitanu Magnet to shield against water-borne sicknesses. It utilizes the most recent purification technology, intended to keep your water spotless and healthy. If you are searching for a decent water purifier, then investigate the Eureka Forbes Amrit Storage Aquasure water purifier. It has a shrewd design and is supported by the most recent innovation and development and aids in securing your family's well-being against any water infections. This proficient water purifier from the place of Eureka Forbes accompanies a guarantee of one year and is effortlessly accessible at an ostensible cost.
Pros:
Positive charge technology with 100 percent chemical free purification
Monitors purification and gradually shuts off when the useful life is over
20 Litre double storage capacity
Removes all disease-causing bacteria, viruses, and cysts
Cons:
Service is below average.
Kent Maxx 7-Litre UV Water Purifier Review
This water purifier evacuates dead microorganisms, pimples, and infections from the water by giving the water a chance to go through a Hollow Fiber UF Membrane with fine pores. This result in 100% safe drinking water which is perfect for utilization. The Kent Maxx water purifier has been thoroughly tried for its quality and execution by the WQA (Water Quality Association) in the USA. It has been given a Gold Seal certification which demonstrates that the purifier agrees to all the testing models of the WQA. This water purifier is appropriate for utilize where the filtered water has low TDS (Total Dissolved Solids). The Kent Maxx water purifier utilizes UF and UV advancements which don't evacuate dissolved contaminations.
Pros:
Fully automatic UV purifier with storage tank
Double purification by UV and UF removes even dead bacteria from purified water
Suitable for low TDS water
Computer controlled operation with filter change alarm and UV fail alarm
Push fit components for leak proof performance
LED indicator for power and purification display
Cons:
How to buy Water Purifiers in India
The best way to buy Water Purifiers in India is to first look at all models of Water Purifiers available online at the leading online Retailers in India. For example on the online webpage of All Water Purifiers available in India, you will find the full range of Indian Water Purifiers complete with their best discounted price and full specifications. This is great information, and you can decide on which model of water purifier to buy. With the model of water purifier you want to buy finalised, you can go to local shops to try and find the model of water purifier you have chosen and see if you can get at similar price of that at Amazon.in. In most cases the price from Amazon will be cheaper, because they buy in bulk from the manufacturers direct and they sell huge volumes because they are the world's largest and most trusted online retailer. If you buy from Amazon, they will arrange to have the water purifier installed in your house, usually free of charge.
Warranty and other facilities offered through Amazon are usually better than what you can get from local agents of water purifiers.
Conclusion
If You are looking for water purifier for your home then you are worried about your health and I must suggest you should take a look at air purifiers in the market. In metro cities, it is very polluted air to breathe in even at home.
I hope above-mentioned points and details might help you find best water purifier. I tried to put my best efforts in selecting these five best water purifier for you or you can go to online stores like Flipkart and Amazon and purchase the Best water purifier for your home. Remember my 7 Quickstep guide which will help you make a better decision.
Frequently Asked Questions
Why is it essential to remove harmful contaminants from the water?
Many harmful contaminants are present in the water. These include dissolved solids, rust, pesticides, disease-causing germs and bacteria and heavy metals such as arsenic, lead, iron, fluoride, etc. These contaminants are responsible for causing severe health issues like cholera, hepatitis, jaundice, typhoid, and even cancer.

These impurities affect the taste and smell of the water as well. Hence, it is important to remove these contaminants from the water, so that your family is provided with water that is free of any foul taste or smell as well as safe and healthy for consumption.
What is TDS?
TDS stands for Total Dissolved Solids. It refers to the metals, minerals, salts, cations, and anions that are dissolved in the water which are invisible to the naked eye. Its units are ppm (parts per million) or mg/l. The TDS of water can be measured using a TDS meter. Know why TDS controller is required in RO water purifier.
What is the acceptable TDS level of drinking water?
The lesser the TDS level, the safer is the water to consume. The average TDS level of the water that is recommended for drinking purposes should be 300-500 ppm. On the other hand, anything more than 1200 ppm is unfit for drinking purposes.
What is the most suitable water purifier for borewell water?
Most houses in big cities are supplied water from underground or borewell. The water supplied from borewell consists of very high levels of TDS, rust, iron, lead, fluoride, etc. Hence, the best type of water purifier for this case is RO water purifiers that use reverse osmosis to remove the harmful contaminants through a semi-permeable membrane.

Borewell water also contains high levels of germs and bacteria that cause water-borne diseases. For this, the recommended water purifier is a RO+UV water purifier where the UV lamp is used to kill the disease-causing micro-organisms by attacking their DNA and preventing them from multiplying.
What is SCMT?
SCMT stands for Silver Charged Membrane Technology. It is a new stage of purification in RO water purifiers that prevents secondary microbial contamination. RO+SCMT offers double protection and purification that provides water that is both safe and healthy for drinking.