Are you looking to buy a sewing machines in India? Maybe you want to use it as a hobby, or for work. In any case, sewing machines nowadays are fun and they let you be creative. You can sew together fabric at a much faster rate than if you were doing it by hand.
Whether you like sewing as a hobby or a job, you need a sewing machine for effective and quick results. It should perform various functions like zig-zag sewing, button holing, quilting, zip fixing, etc. You can get a basic sewing machine if you're a beginner, or an advanced one with more features.
There are a number of sewing machine brands that are on the market today. Thanks to the internet, even local manufacturers can become a global brand with the help of a website like Amazon! That's good for them… but not always so good for you. What brands are the best? And what sewing machines in those brands are created in such a way that all of your needs can be met? The answers to your questions can be found below!
Here Is the Best Chart for the Best Sewing Machines Brands!
If you're looking for the best sewing machine right now, then we've got a chart ready to help you out. Quickly compare and contrast brands below and you'll be able to find the right sewing machine for your home.
List of Best Sewing Machines In India 2022
Top Best Sewing Machines Reviews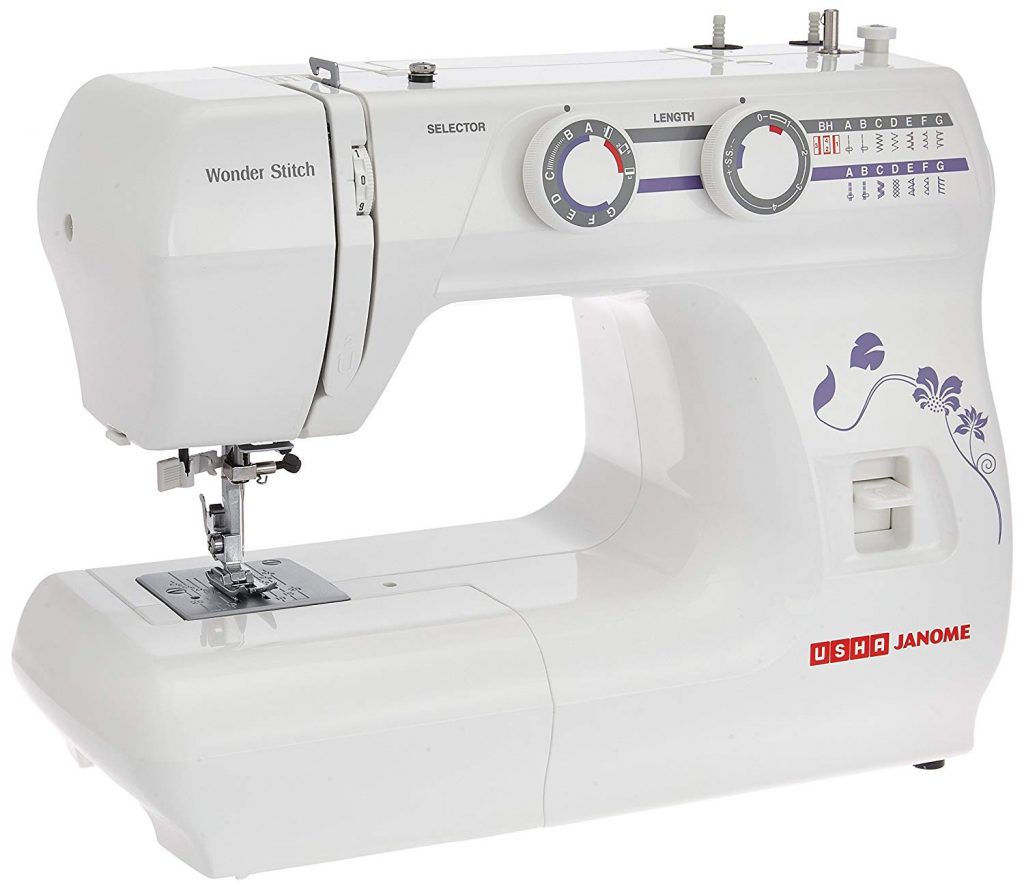 Usha is one of the leading brand when it comes to sewing machines. This wonder sewing machine from Usha is comes in with a variety of features that makes sure the user gets hassle-free as well as humble stitching experience.
It has a full aluminum body that has a one-step buttonhole and a free arm to allow easy circular stitching. Along with these, the sewing machine has all the best features possible, at the best price.
Usha Janome Sewing Machine is the best sewing machine in India.
Their sewing machines are also quite well known and are available since the time they were mechanical.
The sewing speed is rated at 860 SPM and you will have multiple controls to get the perfect stitches
This one is an advanced machine with all the latest features and options.
USHA is giving 7 types of stitches with this machine and you can have up to 14 applications.
This machine is a perfect machine for this price, and the company is also giving a warranty of 2 years.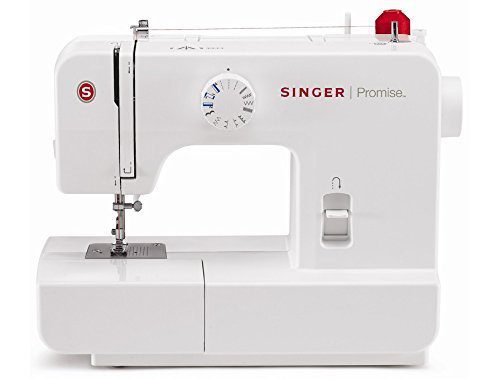 Singer Promise 1408 sewing machine is one of the best products from Singer and is a complete package of all the best features that you would require.
Singer Promise Sewing Machine is the Second best sewing machine in India.
It comprises with 8 built-in stitches- includes 6 basic, 1 decorative and 1 automatic 4-step buttonhole.
Fast, easy and straight forward threading path saves a lot of time.
Heavy duty metal frame is available for skip-free sewing and overall durability.
Extra high presser foot lifter offers more clearance, which is needed when placing multiple layers of bulky fabric under the presser foot.
The accessories are conveniently stored in the removable storage compartment providing easy access.
It comes with 2 year manufacturer warranty.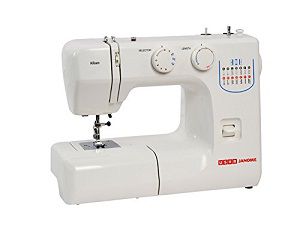 Usha Allure is also a good model with beautiful looks, but it has some differences with wonder stitch. It does not have Embroidery Switch, Built-In Needle Threader & drop feed dog. If you have weak eyes or facing problems in passing the thread from the needle than built-in needle threader can be useful which is available in the above model.
Specifications:
AZ sewing machine with 30 stitch functions
Lightweight and comes with a carrying handle
Colour coded functional faceplate and two dials for a pattern and stitch length selection
Free arm machine which allows for circular stitching
Warranty: 2 years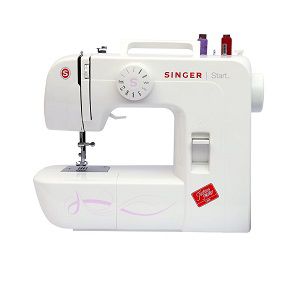 Last but not the least it is another great model with 4.4/5.0 customers rating on Amazon. It has dual spool pins for twin needle sewing.
Specifications:
Six built-in stitches: 4 bases, one decorative and one buttonhole
Free arm, heavy duty metal frame, snap-on pressure feet and extra high-pressure foot lifter
The Right Stitch: Easier sewing for better results
Simple Stitch Selection: Machine remains still for skip-free change stitches in one easy step sewing
Easy threading buttonhole, saves time, no guesswork and just professional looking results
One automatic, 4-step buttonhole and expands your creative sewing possibilities
Warranty: 2 years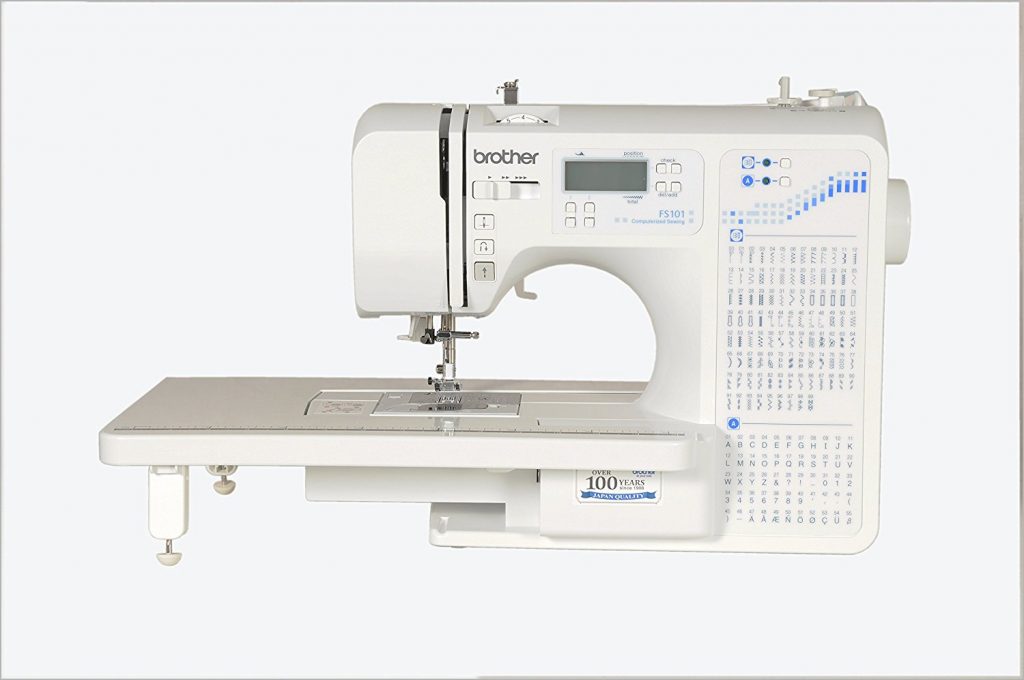 Another masterpiece from Brother is Brother FS101, which will steal your heart away in a second. Being one of the best sewing machine brands in India, it has the perfect combination of all the features you're looking for in your sewing machine.
Brother FS 101 Sewing Machine is the third best sewing machine in India.
This Brother sewing machine comes with the same quality assurance and great performance.
Comes with 55 alphanumeric stitches for sealing and 8 types of button holes.
STOP/START switch and a stress-free speed regulator.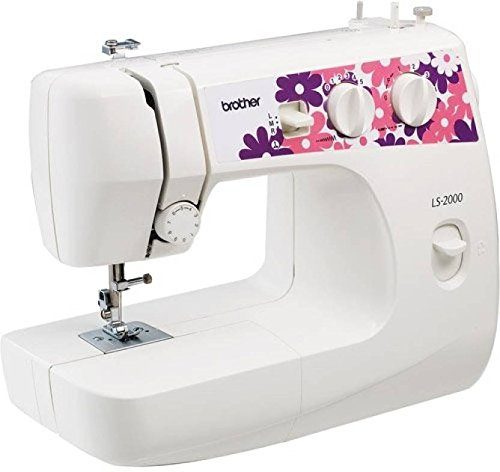 This Brother sewing machine comes with high quality assurance and great performance. Last on the list but not the least, Brother LS sewing machine is definitely one of the best value for price sewing machines.
Brother LS 2000 Sewing Machine is the tenth best sewing machine in India.
This automatic sewing machine is perfect for both personal and professional use.
Coming with a foot control pedal, it offers a great comfort level. Brother has ensured a variety of stitches are possible with this machine and you can use it even for pico.
However, this machine is targeted at the people who don't want to spend that much money on a sewing machine.
How Do You Find the Best Sewing Machines?
First and foremost, you'll want to look at the operation of the bobbin when considering a sewing machine. Everything from thread tension to threading the needle lies with this one tiny spool! Look for options that allow you to quickly insert a new bobbin and pull the thread through the needle so you can get started right away. For sewing machines that need a custom bobbin, look for automatic winding features that are independent of the actual sewing mechanism.
The best sewing machines also have front-facing eyes for their needles so they are a lot easier to thread. There's less wasted time because you don't have to try to thread the needle from the side and try to fit your fingers or a pair of tweezers into a small area.
The best sewing machines are also heavy enough that they'll create an established footprint where you install them. If you're feeding material into your sewing machine and it wobbles, there's a good chance that you'll skip a stitch or two as a consequence. Look for good dogs that will help feed materials at consistent speeds without bunching up the material at the needle.
What Kind of Sewing Machine Is Right For You?
There are some different kinds of sewing machines that each brand has produced that can serve to meet some specific needs. Which one of these is right for you?
Serger machines. These machines help you put the finishing touches on any sewing project. They've got the capability of powering through your basic chores, but do a better job of creating the flair and frills that you'll find on many items. You can see our collection of Serger machines reviews here.
Embroidery machines. Whether you're creating quilt squares or you're wanting to monogram a pillow, these sewing machines will help you quickly take care of every need you have. Many embroidery machines will only do an embroider stitch, however, so you may need to look at another sewing machine for a straight stitch. We have a dedicated page for our embroidery machine reviews.
All-in-one machines. Some brands have created sewing machines that are able to embroider while still providing serger and straight stitching options. These machines are the best in the industry and provide a professional level of quality, but also tend to come with a higher price tag as well.
Which of these sewing machines is right for you? It's all about what your sewing needs happen to be. If you're looking to upgrade from an entry-level model, any of these options can provide you with an exciting, affordable sewing experience! That means the best way to make a certain selection is to utilize our in-depth reviews on the best sewing machine brands. With the features and advantages you need right up front, you'll be able to find the best machine possible.
Read More >> Top 10 Best Mini Refrigerator To Buy Online In India
Sewing Machine – Buying Guide
What are the things to look for when buying a sewing machine?
You might require a sewing machine for solving plenty of purposes, and to perform stitching on a diverse selection of fabrics or clothes. The Best Sewing Machines require having a diversity of features to be capable of handling a wide assortment of fabrics, deprived of extending or doing away with the cloth. Somebody who distinguishes how to work up a sewing machine would certainly need these features to be there in the sewing machine. If this is your primary time in purchasing a sewing machine, we would like to help you out in finding the best one with our buying guide.
Automatic Buttonholer
An automatic buttonholer function is a sewing machine, which assists you to easily prepare a hole in the shirt, devoid of triggering any woe. It ensures that you don't need to halt and turn the garment of the shirt. The best sewing machines offer this function, which moreover permits you to inset the button hooked on the slot short of any tough work so that the machine stitches a buttonhole inside it.
Feed-Dog Fine-Tuning
A few sewing machines assist you to perform stress-free stitching for the faultless needlework and design owing to the existence of this function. This function assists you to outrun the customary apparatus of stitching to style the best of the garments.
Good Controls & Ergonomics
The best sewing machines should possess user-pleasant controls and must be receptive to the applied pressure on that foot pedal. It moreover shouldn't howl or stall whilst sewing dense fabric or manifold layers. The existence of cool controls turns it easy for the users to grasp and operate them and permits the operators to make comprehensive use of their sewing machine.
Needle Position
The best sewing machines permit their needles to travel around effortlessly to a bigger surface area so that user is capable of moving it about the garment as ample as likely. This function turns it possible for the sewing machine to simply lift up the pressure foot and move a corner deprived of utilizing a jump stitch.
Needle Threader
The sewing machine's needle threader allows the machine to tug the thread from the needle's eye, which certainly saves a lot of effort and time. It turns it really easy to perform this gallingly annoying task of setting your thread into the needle's eye, which turns it a pretty necessary feature.
Presser Feet
You should recognize the number presser feet that are available in your sewing machine prior to purchasing one. You might require a multi-purpose foot to perform the most fundamental stitching job, such as zigzag and straight stitches. However, for a further compound stitching job, you might require a more progressive buttonhole foot and zipper foot to get the task performed.
Power Switch
The power switch function assists the user to switch their sewing machine off or on. A power switch provided with your sewing machine should be the safest function in your machine to assist in preventing any sort of a mishap.
Speed Control
This functionality assists the user to decide the speed at which the sewing machine is going to function or the speed upon which the material is served into the machine, confirming the best-stitched job. A continuous speed assists the user to get a smooth stitching design, deprived of halting in the middle.
Tension Adjustment
This feature aids in adjusting how taut the needle thread is held, which requires to be altered as per the job in hand. You should look for the supreme stitch length of a sewing machine prior to purchasing it, together with the sewing machine's width.
Top-Load Bobbin
The up-to-date sewing machines comprise of a built-in functionality of a top-load bobbin, which turns it conceivable for the sewing machine to humbly slip open the panel and drop the bobbin.
The best sewing machine brands have the flexibility to produce a high quality machine with the right amount of features for your home. Whether you want something without any bells or whistles that will provide a straight stitch for an affordable price or you want a top-of-the-line sewing machine that has everything you could every anticipate needing, the best sewing machine is just waiting for you today! Use our reviews to find the perfect machine and then enjoy the time you spend sewing!
Frequently Asked Question
Which is the best sewing machine in India in 2022?
With its 21 stitching applications and 13 in-built stitches, you can experiment on anything with your creativity level. It is the best sewing machine in India under 15000
Which is the best sewing machine in India under Rs.10000?
Usha is one of the best brands in India for sewing machines. Again, the best sewing machine under 10000 is also from Usha – USHA Janome Dream Stitch. The seven in-built stitches and 14 stitch functions are the best you can get in this price range to explore with. If you are a beginner or buying this for little household stitching requirements, then this will be enough for you. However, you can also use it for professional purposes as well.
Which sewing machine is better electric or manual?
You absolutely cannot choose between the two as both these products serve different purposes and are meant for different types of product users. For casual designers, an electrical sewing machine is an ideal choice with a range of 550–750 SPM while for use by elderly people for day-to-day stitching and mending, a mechanical sewing machine would be a good choice. Nowadays, we also have computerized machines, mainly for professionals.
Which is the best affordable sewing machine?
The products offered by Singer are cheap, durable, and affordable but Usha has an age-old legacy and a superior brand name. You can opt for any one of them based on your requirement. You shall get a good sewing machine within 10,000 INR.
What is the most reliable brand of sewing machine?
Built with Japanese technology, Usha is the most reliable brand in India when it comes to sewing machines. It has had an age-old presence since 1934 and is highly trusted in Indian families.