If you live in Northern India, Room Heaters must be one of the must-have appliances in your home during winter time. In northern India, summers are extremely hot and on the other hand, winters are extremely cold. It's better to invest in a room heater as they create warm atmosphere during cold and saves you and your loved ones from chilling cold outside. In this post, we will give you best room heater price list so that you know how to choose best electric heaters for your home.  A lot of electricity is consumed by room heaters nowadays, due to which electricity bill increases
If you are looking for the best room heater in India, then you are at the right place. In this post, I am writing about how to choose the best room heater for your needs and top 10 best room heaters in India you can buy right now from the comfort of your home.
Room heaters become a necessary purchase during winters especially if you live in Northern India. At the moment of writing this post, the temperature here in Delhi is 10 degree Celsius.
This started my research for room heaters to buy online. Room heaters are known by the name of space heaters in other countries. They create a warm atmosphere inside a room and save the house members from chilling cold outside.
Top 10 Room Heaters Comparison Table
Sale
Bestseller No. 1
Orpat OEH-1220 2000-Watt Fan Heater (White)
Meant for Spot Heating, Room Size: Upto 250 sq ft
Ideal for a small / medium room only, i.e., up to 250 sq. ft. when operated at 2000 watt heat setting. Makes some noise due to fan. Body Material: Plastic, Metal
Refer the wattage chart image for locating heater wattage requirement for your room size
Plug type: 15A, do not plug in the standard 5 or 6A socket, you may require a 3 pin plug or extension cord to act as a 5-15A convertor but can not be used for long time with extension cord
Non sagging, stitching type and long life heating element, Safety cut-off, Overheat Protection
Sale
Bestseller No. 2
Usha Quartz Room Heater (3002) 800-Watt with Overheating Protection (Ivory)
Meant for Spot Heating; Voltage/Frequency: 230V/50Hz/1 Phase
Room Size: Upto 150 sq ft; Ideal for a small room only, i.e., up to 120 sq. ft. Touch Sensor: No
Safety tip over switch cuts off the heater in case it tilts or falls; Powder coated finish to prevent corrosion
Designed for low power consumption; There are two heating positions to suit your comfort
Customer Care Number: 18001033111; Warranty: 1 year on product; Power: 400 and 800 watts
Sale
Bestseller No. 3
Orpat OEH-1260 2000-Watt Fan Heater (Grey)
Meant for Spot Heating; Safety Mesh Grill; 100% Pure Copper Wire Motor for longer life
Room Size: Upto 250 sq ft
Ideal for a small/medium sized room only. Makes some noise due to fan
Non sagging, stitching type and long life heating element
Safety cut-off , Auto-revolving Heater , Overheat Protection , Touch Sensor
Bestseller No. 4
Amazon Brand - Solimo 2000-Watt Room Heater (ISI certified, White colour, Ideal for small to medium room/area)
Powerful 2400 RPM copper winded motor for quick heating and can be used vertically or horizontally (kindly refer to images)
Do not worry if you experience some burning smell when you run your room heater for the 1st time. This is due to the motor varnish getting heated for the 1st time. The problem should not recur in...
Caution - Always use the product with 16A socket. Using it on lower rating sockets may result in melting of socket or the plug. This is 2 KW heater. It will consume 2 units per hour when operated on high...
Warranty: 1 year limited warranty. For warranty claim, please contact us on: [1800-419-0416]
Air throw range of 10 feet which is ideal for small to medium sized room; Product can be placed both vertically and horizontally (kindly refer to images)
Sale
Bestseller No. 5
Bestseller No. 7
Bajaj Flashy 1000 Watts Radiant Room Heater (Steel)
Radiant Warmth: Ideal for use in in small rooms, this 1000 Watts heater provides instant heating during winters. Heating Element Type - Wire wound on refractory rod
Personalized Comfort: Customize to your heating needs with an adjustable thermostat. Body Material:-CRCA
Peace of Mind: Featuring cotton braided cord for safety and Nickel Chromium Plated mesh grid for effective heating, Neat & Clean Operation
Reliable & Safe: Our room heaters are dependable and they also come with a 2 Year warranty
Cord Length:1.5 meters ,Cord Type:Cotton Braided ; Rated Voltage: 230 V ; Cord Plug Material: Molded PP filled ; Coating Type: Powder
Sale
Bestseller No. 8
Sale
Bestseller No. 9
Sale
Bestseller No. 10
Different Types Of Room Heaters In India
Radiant Heaters: In these type of electric heaters heat is produced using infrared technology. In quartz tube, electricity will run so that resultant heat gets transferred to surrounding people. Hence these room heaters do not heat surrounding heater. Hence these room heaters warm small spaces really well. Due to the latest technology, they get heated up quickly but the heat gets dissipated after the unit is shut-off.
Convection Heaters–These room heaters are specially designed to warm entire rooms. Some convection room heaters are fan assisted also. Hence you can use those room heaters as the fan too in summers.  For warming the entire room, these room heaters blowers are the best option. Also if there are many people in your room, you can go for Convection Heater. After the unit is shut-off, warm air stays for some time.
Also Read
Choosing a Room Heater According to Room Size
The amount of watts produced by the room heater determines the coverage area. For example, if you purchase a 2000 watt room heater, you can expect it to warm a 200 sq. ft. area.
There are manufacturer variations; however, typically measuring watts to sq. ft. determines the outcome. Measuring watts to sq. ft. is done by dividing 10 into the number of watts the room heater offers (2000/10=200 sq. ft.).
Measure the room you want to heat and make a room heater purchase accordingly. For example, a room that measures 10 x 15 feet will measure 150 square feet.
Features to Look in Room Heaters
Wattage – The power of the heater affects its heat output, and higher wattages produce more heat. 1000 W room heaters come with a 5 Amps plug while 1500 W or 2000 W room heaters come with a 15 Amps plug. Most households have only 5 Amps socket. So if your house does not have 15 Amps socket, go with 1000 W room heater or else you will need an electrician to change the socket to 15 Amps for 1500 W or 2000 W room heaters.
Automatic On-Off Switch – This switch turns the heater off if it tips over or overheats. Some units will switch off if something or someone touches the protective grill.
Power Cord Length – Having an adequately long cord allows more choices for heater placement and helps avoid the need for an extension board.
Handle – A handle is both a necessity and a convenience when carrying a heater from room to room.
These Are The Top 10 Best Room Heaters In India 2020:
Now, let's take a look at what is are the most selling models online and what are their features, Pros & cons so you can make a better decision.
Usha FH 1212 PTC 1500-Watt Fan Heater Review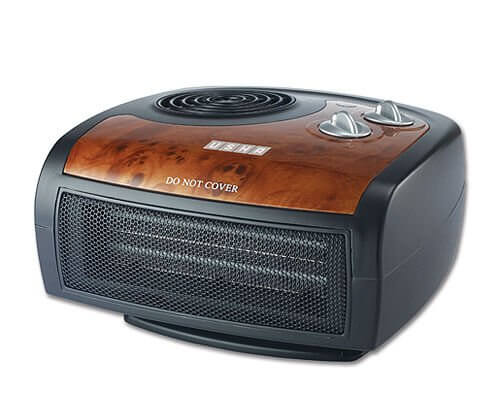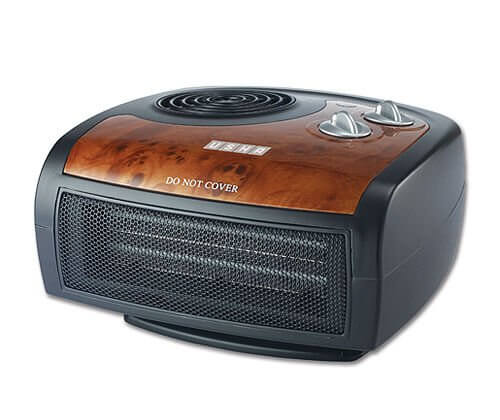 Pros:
Portable fan heater with inbuilt grip
PTC heating elements with inbuilt safety offer power saving and longer life
Silent heating < 50 db
Instant heating and fire retardant strong ABS housing
Cons:
Orpat OEH-1250 2000-Watt Element Heater Review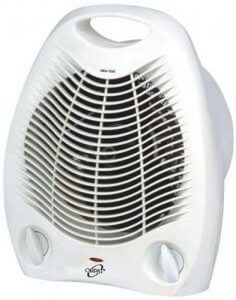 Pros:
Comes with a safety and thermal cut off.
Comes with a cool-to-touch body.
Two heat settings-1000 watts and 2000 watts
Safety cut-off
Cons:
Electric plug point is huge. you need this heavy plug.
Usha QH 3002 Quartz Room Heater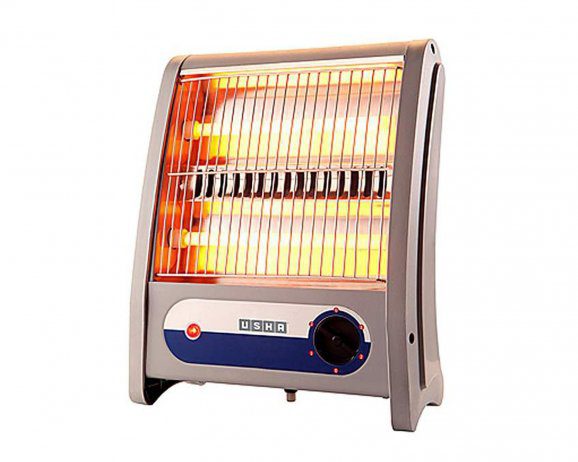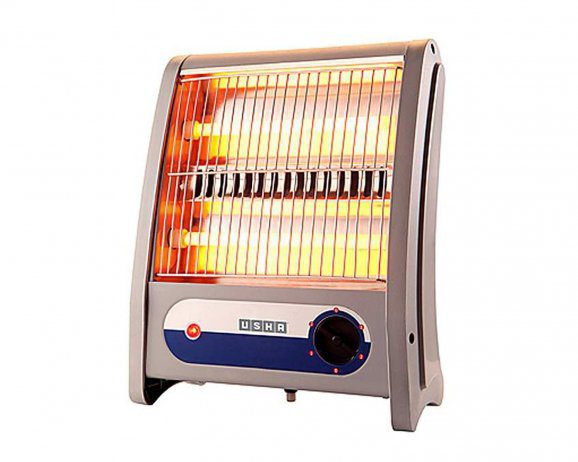 Pros:
The heating element used is a quartz tube.
Finished with a powder coating that prevents corrosion.
Cons:
selection knob is not good
Takes time to heat up
Bajaj Blow Hot 2000-Watt Room Heater Review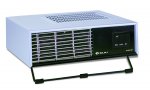 Pros:
Compact design
Easy for mobility
Can also be used as an air-circulator or as a driver
Cons:
It requires the "larger pin" socket.
Orpat OEH-1260 2000-Watt Element Heater Review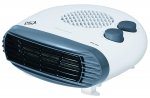 Pros
Superior heating element
Easy to use and Install
Cons:
Design is delicate
It wont work in small plugs.
Also Read
We hope you got all necessary information about top 10 best room heaters selling online in India and if there is anything else we can help you with we will do that. Just ask us your queries in comments below and we will answer ASAP.
When buying best room heater one must keep in mind that it should have a thermostat so that temperature remains under control and electricity bill is reduced. Also, it is important to keep right insulation in the room. Hope our room heater price list helped you in making the right choice.